We sometimes get our inspirations from art. When [kodera2t] saw some Japanese art of fish drawings embedded in clear epoxy he just had to make his own. But while skilled in electronics, he wasn't skilled at drawing. We'd still call him an artist, though, after seeing what he came up with in his electronics embedded in crystal clear epoxy.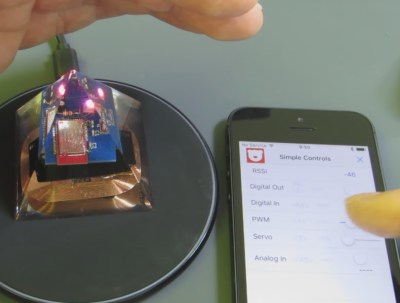 His first works of electronic art were a couple of transistors and some ICs, including an 80386, encased in epoxy. But then he realized that he wanted the electronics to do something interesting. However, once encased in epoxy, how do you keep the electronics powered forever?
He tried a solar cell charging a battery which then powered an LED but he didn't like the idea of chemical batteries encased in epoxy for a long time.
He then switched to wireless power transmission with a receiving coil in the base of epoxy pyramids. For one of them, the coil powers a BLE board with an attached LED which he can control from his phone. And his latest contains an ESP32-PICO with an OLED display. The code allows him to upload new firmware over the air but on his Hackaday.io page, he shows the difference between code which can brick the ESP32 versus code which won't. But don't take our word for it. Check out the video below to see his artistry for yourself.
While embedding electronics in epoxy is new to [kodera2t], we've seen it a few times before. once in the form of an amplifier circuit done beautifully, dead bug style, and a more experimental attempt with a solar lantern.
Continue reading "Epoxy Embedded Electronic Art Running On Pyramid Power" →