In the 1950s, artwork of what the future would look like included flying cars and streamlined buildings reaching for the sky. In the 60s we were heading for the Moon. When digital watches came along in the 70s, it seemed like a natural step away from rotating mechanical hands to space age, electrically written digits in futuristic script.
But little did we know that digital watches had existed before and that our interest in digital watches would fade only to be reborn in the age of smartphones.
Mechanical Digital Watches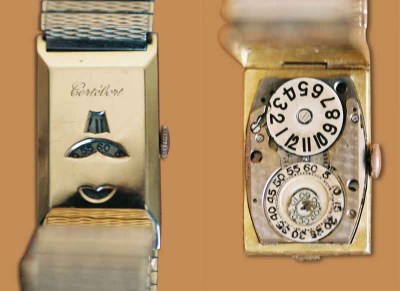 In 1883, Austrian inventor Josef Pallweber patented his idea for a jumping hour mechanism. At precisely the change of the hour, a dial containing the digits from 1 to 12 rapidly rotates to display the next hour. It does so suddenly and without any bounce, hence the term "jump hour". He licensed the mechanism to a number of watchmakers who used it in their pocket watches. In the 1920s it appeared in wristwatches as well. The minute was indicated either by a regular minute hand or a dial with digits on it visible through a window as shown here in a wristwatch by Swiss watchmaker, Cortébert.
The jump hour became popular worldwide but was manufactured only for a short period of time due to the complexity of its production. It's still manufactured today but for very expensive watches, sometimes with a limited edition run.
The modern digital watch, however, started from an unlikely source, the classic movie 2001: A Space Odyssey.
Continue reading "Inventing The Digital Watch Again And Again And…" →