Surface Grinders are machines that can make a surface of a part very flat, very smooth and very parallel to the face of the part that is mounted to the machine. Surface grinders usually have a spinning grinding wheel suspended over a moving bed. The bed moves the part back and forth under the grinding wheel removing an extremely small amount of material at a time, sometimes down to just a ten-thousandth of an inch (o.0001″) in order to make a precision part.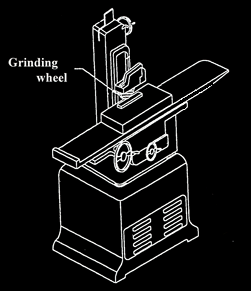 [Daniel] is a tool guy and wanted a Surface Grinder. He didn't need a super-accurate commercial grinder so he decided to make one himself. It's a doozy of a project and is made up of quite a few other tools. [Daniel] already had a mini CNC mill and decided this would be a good platform to begin with. The mill was rigid and already had automated X and Y axes, after all. For the grinder motor, nothing made more economical sense than to use a regular angle grinder, but there were two significant problems. First, no company made wide grinding wheels for an angle grinder. [Daniel] had to modify his spindle to accept an off-the-shelf surface grinding wheel. The second problem is that the new grinding wheel had a max RPM rating of 4400. The angle grinder can reach 10,600 RPM. In order to slow down the angle grinder, a speed control was taken out of an old variable-speed router and integrated with the angle grinder. Problem solved. A mount was then made to attached the angle grinder to the Z axis of the mill.
A magnetic chuck mounted to the mills bed is used to hold down metal work pieces. There is a lever on the chuck that when moved in one direction it creates a magnetic field to hold a ferrous piece of metal firmly to the chuck during machining. When the lever is moved in the other direction, the part is released and can be removed from the Surface Grinder.
To use his new Surface Grinder, [Daniel] creates a CNC g-code file to move his work piece back and forth underneath the grinding wheel. Being able to control the depth of cut and feed rates with his CNC machine removes human error from the grinding process and leaves a consistent finish on the part. Check out the video after the break.
Continue reading "DIY Surface Grinder For Making Precision Parts At Home" →