The launch of Pokemon Go has unleashed the franchise upon the world once again but this time it's encouraging users to get active and socialize in the great outdoors. To show off their dedication to the cause, [Npoole] 3D printed a Pokédex external battery and case to combat the game's already legendary drain on their Galaxy S4's resources.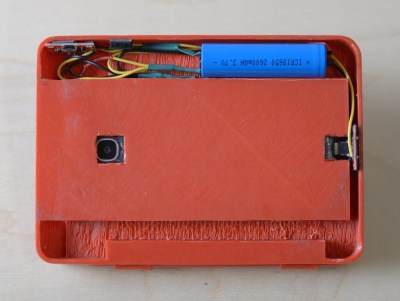 Mimicking the first-generation Kanto design, [Npoole] 3D printed it in red ABS and added a small circuit with a red, yellow and green LED to complete the effect. Inside, a 18650 lithium cell provides the much-needed backup power via a micro B plug and is boosted to 5V with a LiPo charger/booster board. Despite a switch on the circuit, the battery slowly drains so that's something to be corrected in a future version.
As you can see, there is still some room left over in the external bat–I mean–Pokédex, and [Npoole]  intends to add another battery and a cooling fan to further improve the design. The result is a little bulky, but for new and diehard fans alike, a working Pokédex definitely worth it.
While that's printing, if you're looking to hack your way to the perfect Poké-ball throw, try out this lo-tech addition to your Pokémon trainer kit.
[via Sparkfun]