If you watch Pokémon Go enthusiasts, you may have noticed something of a community spirit among gamers congregating at busy in-game locations. [Spencer Kern] wanted to encourage this, so produced what he describes as a water cooler for Pokémon Go players, a Pokémon-styled charging station with multiple USB ports.
His build centres on a Yeti 400 solar power pack and a large multi-port USB hub, for which he has built a detailed wooden housing in the style of a Pokémon Center from the earlier Nintendo games. The idea is that gamers will congregate and plug in their phones to charge, thus bringing together a real-world social aspect to the game. We can see the attraction to gamers, however we suspect most Hackaday readers would join us in not trusting a strange USB socket and using only a USB cable not equipped with data conductors.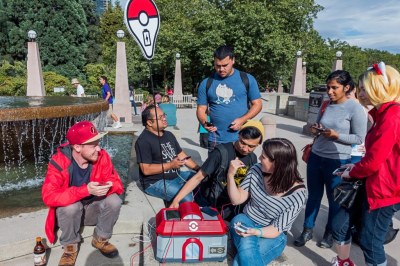 Still, the housing has seen some careful design and attention to detail in its construction. He started with a 3D CAD model from which he created a set of 2D templates to print on paper and from which to cut the wood. As many of his dimensions as possible were taken from common wood stock to save machining time, and the structure was assembled using wood glue before being sanded and filled. Finally, the intricate parts such as the Pokémon logo were 3D printed, and spray painted. The result is a pretty good real-world replica of the Pokémon Center that you'd recognise if you were a player of the original games, and he reports it was a hit with gamers in his local park.
We've covered quite a few Pokémon Go hacks recently, but many of them have had a less physical and more virtual basis. We did see a real-world Pokémon-catching Pokéball though, and of course there was also the automated Pokémon egg incubator.
Thanks [Genki] for the tip.