Over the last several years, hackerspaces have cropped up all over the world. These places have become a home base for hackers, tinkerers, makers, designers, and engineers alike. One of the biggest problems associated with these creative environments is the hours that are typically available. A lot of the time you just can't walk in at odd hours of the night and expect to do anything at all. Granted, the best hackerspaces give out 24 hour access keys to those that pay for it, but sometimes it just feels better to do the work from the comfort of one's home. Also, if a person doesn't have the privilege of having a hackerspace in the area, then transforming a garage into a work shop can provide a nice entry point into the continuation of the maker revolution.
A trend is emerging where garages are being turned into hackerspace-like workshops that are neatly packed away within ordinary neighborhoods. A great example is EdsJunk Home Shop. His two car garage was converted into a maker shop complete with 3D printers, laser cutters, CNC machines, and more tools than one can dream of. The key, as [Ed] states, to creating such a useful home shop is organizing everything strategically.
This project has been a 5 year venture so far and there is still plenty to do. Years of experience have taught [Ed] to coordinate the tools in out-of-the-box ways. His air compressor, for instance, is stored in the attic with a retractable hose descending from the roof down into the garage which helps to save space and reduce noise.
Another technique involved the setting up the benches for different purposes and combining tools into 2-in-1, 3-in-1, and 4-in-1 devices. One such item fashioned together an electric radial arm saw and a table saw that was installed directly into a woodworking bench. Of course, just like any other builder's garage, EdsJunk Home Shop has a hardware section with a tool box and drawers full of nuts, bolts, and screws for countless amounts of possible combinations. The metal working bench, although small, is a nice addition to the space as well. A bench grinder, belt sander, and radial sander is just enough to get started.
More fun tools include a 2 foot by 4 foot CNC router that was picked up for $1000, broken, fixed up, and now it works great. He made the dedicated MACH 3 CNC control panel with a few old arcade buttons, a handful of other buttons acquired via Radioshack and a keyboard giving it a fun retro gaming style to it. The CNC machine is great for making art and lots of parts, like the case used in this portable XBOOK 360 laptop.
EdsJunk Home Shop also has 2 Makerbots (a Replicator 2 & a Replicator 2X). With this setup, both ABS and PLA plastic filaments can be used to create almost anything. The filament spools are placed above the printers which are stacked in an effort to gain more space.
One of [Ed]'s favorite machines in the shop is an Accuris 40 Watt laser cutter/engraver. He mainly uses it for cutting acrylic, wood, and cardboard. The vacuum for it is stored in the attic for more consolidation. Another cool tool that [Ed] has is a vinyl plotter which can cut material for sign making and fashioning graphics. He tested it out by creating Dexter's Lab, Jurassic Park, Johnny Bravo, Lion King, and Simpsons characters, which can be seen in the colorful picture below.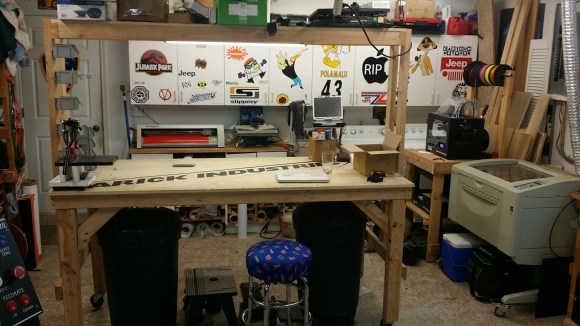 [Ed]'s garage is a prototype for maker-related garage transformations for those who looking to develop their own household work shops in the future. A natural next step after this conversion would be to open up the doors for trusted neighbors allowing them to occasionally come in and use the tools for their own community projects. Experiments with monetization of everyday neighborhood services could also happen too, primarily surrounding the support of 3D printing and other types of making.
If you have a similar garage setup, document what you got inside and send us the link. To see the rest of what [Ed] has, check out the video: