We think Formlabs has really figured out the key to advertising their line of 3D printers — just design really cool stuff that you can 3D print in resin, and release them publicly! To celebrate a firmware upgrade to the Form 1+, they've designed and released this really cool 3D printed speaker which you can make yourself.
Designed by [Adam Lebovitz], the speaker can be printed in just a few jobs, using their flexible resin for the dynamic components. It even sounds pretty damn good.
As you can see in the following exploded view of the speaker, almost the entire thing is 3D printed out of just two materials — minus some copper wire, 37 disc magnets, and one cap screw.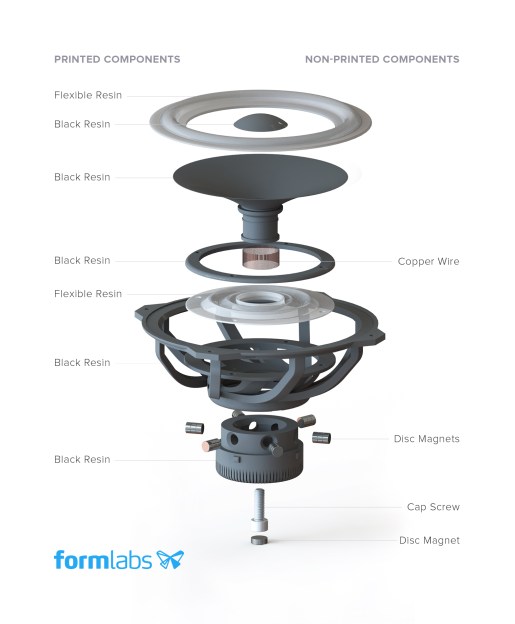 Of course, this isn't the first time someone has 3D printed a speaker, but [Adam's] done a pretty slick job of it. They've released all the design files for free (you do have to request them), but it's foreseeable that it could be printed on a standard FDM machine with support material — it's just much easier with a resin based printer.
Similar to their 3D printed monocle (which includes the lens!), this is a great example of how far SLA based printers have come.
[Thanks for the tip Jennifer!]