For the past two weeks we've been on the lookout for the best 2015 Hackaday Prize entries which are using parts manufactured by Atmel, Freescale, Microchip, and Texas Instruments. All four are sponsors of this years initiative to solve problems faced by a large number of people.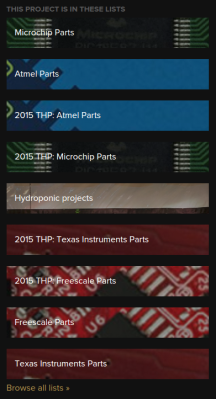 The three-week mini-contest will come to a close on Monday and the Hackaday crew will begin to assign 200 prizes to the entries; 50 for each of the curated lists. Prizes include Mooshimeters, DS Logic Analyzers, Stickvise, Bluefruit BLE Sniffers, Cordwood Puzzle kits, and TV-B-Gone kits.
There are two things you need to do in order to be considered for this contest: make sure your project has been submitted as an official 2015 Hackaday Prize entry, and that the project is listed on the list associated with the parts manufacturer you've used in your project design. The easiest way to get on the list is to leave a comment on the .Stack thread.
You can check to ensure you've met these two requirements by viewing your project page and looking in the left sidebar. The square thumbnail photo at the top will have a black flag with the astronaut logo at "2015". Below that you will see banners for the lists on which your project is included. You should be on at least one of the following lists: 2015 THP: Atmel Parts, 2015 THP: Freescale Parts, 2015 THP: Microchip Parts, 2015 THP: Texas Instruments Parts.
Don't miss out on this stage of the contest. You stand a really great chance of being selected as a winner! And for those already on the lists we can offer some advice for rising to the top. Polish up your documentation. Tell us how the parts are used in your design, where you are in the prototyping process, and list the tasks you have yet to accomplish. Share the whole story of what you're working on. Good luck!
Those looking to discover and be inspired by the existing entries should give Astronaut or Not a try. The side-by-side comparisons are a great way to browse, and could also win you some prizes.
---