We're still not too sure if the Amazon Dash button is a brilliant marketing and advertising ploy, or is just downright stupid. But what we do know, is for $5, it's a lot of hackable tech that could be used for more… useful purposes. The big A sells these dash buttons for one purpose — you push the button and whichever product is assigned to it shows up on your doorstep in a few days. [Ted Benson] wanted them to do more than that so he turned a few dash buttons into a way of tracking his baby's health!
Apparently, data acquisition of your baby's wake-up times and poops is useful to identify health patterns. [Ted] tried using some phone apps to keep track of this stuff, but found it would be a lot easier if there was just a big button on the wall or something… which is where he got the idea to make use of the Amazon Dash button.
It's actually really simple to do. Buy the dash button, do the setup with Amazon… but don't do the final step: selecting the product you want to order. If you don't select anything, you won't order anything…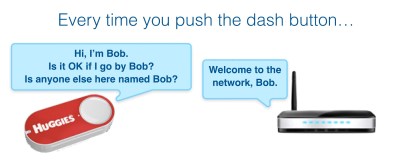 The beauty of the dash button is that it's designed to save power, which means it only turns itself on when you press the button.
Every time it boots up it has to reconnect to your WiFi network. This is a terribly simple thing to track and record using a simple Python script.
Record the MAC address of each dash button, and all you have to do is sniff the WiFi network for the ARP probe that gets sent out by the button! It's so simple, you can pretty much copy and paste the code from [Ted's] blog and do it yourself. Think this isn't useful to you? Human fingers aren't the only way to push buttons — rig this up mechanically or electrically and you can easily record recurring events.
And for more information about the tech inside the Dash button? Check out our Dash button tear down coverage.