Sometimes, you see a lamp shade and you're just intoxicated enough to put it on your head like a hat and dance around on the table. Other times, you see the same lamp shade, and decide to wire it up with Neopixels, an accelerometer, and an Arduino and make a flowery, motion-activated light show when you wear it as a dress. Or at least that's what we've heard.
[Cheng] gets full marks for the neo-IKEA name for the project and bonus points for clean execution and some nice animations to boot. The build is straightforward: build up the lamp so that it fits around your waist, zip-tie in the RGB LED strip, and connect up accelerometer and microcontroller. A tiny bit of coding later, and you're off to the disco. It looks like a ridiculous amount of fun, and a sweet weekend build.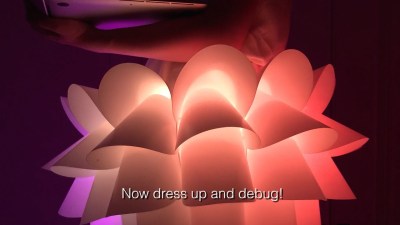 The code is up on GitHub if you're doing your own accelerometer-to-color-patterns device. Tweak the animations and make them your own, or just leave them as-is and count on your individualistic rump-shaking skills to avoid the eventual embarrassment when someone else steps into the club wearing the same dress as you.
Oh, and we love this image of the builder wearing the dress, lit up, with laptop in her hand tweaking the code. "Dress up and debug" indeed!
Thanks [Michael Philetus Weller] for the tip!