Play the demo video below and try not to let the rhythm worm its way into your brain. What you're hearing is the sound of a bunch of clocks, amplified. None of them are keeping wall time, but all of them are playing together.
[Gijs] makes crazy musical instruments. He doesn't give us much more than a video and a couple schematics for this project, so this one's still a bit of an enigma, but here's what we've put together.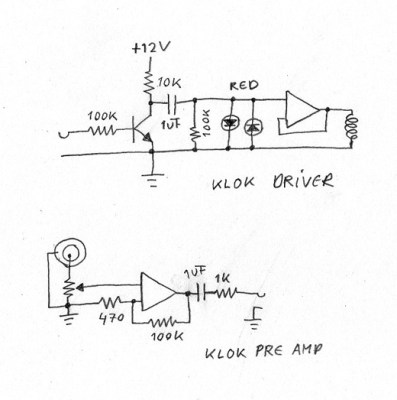 The video looks like eight identical version of the same module. The input takes a voltage and converts the rising and falling edges into pulses to drive the coil of an el-cheapo clock. The LEDs pulse as the poles of the clock switch to the incoming beats. The output comes from an amplified piezo sensor stuck on the back of each clock. That is, what you're hearing is each clock ticking, but amplified. And if you watch the dials spin, it doesn't look like any of them are telling time.
So far so good, and it matches up with the schematic. But what's up with that switch on the front? It doesn't show up anywhere.
And what's driving the show? [Gijs] tantalizes us with a master clock module (on the same page) that looks like it does keep time, and outputs subdivisions thereof. But that would be too slow to be what's used in the video. Has he swapped the crystal to make it run faster? It's a mystery.
Of course, we'd expect no less from the man who mics up a kitchen timer or a gear motor and adds them to his synthesizer rack. We've covered a bunch more of [Gijs]'s work in the past, from his video mixers to this hard-drive turned synth oscillator, but this time he's got us scratching our heads a bit, as well as tapping our feet.