Just over a year ago, Particle (formerly Spark), makers of the very popular Core and Particle Photon WiFi development kits, released the first juicy tidbits for a very interesting piece of hardware. It was the Electron, a cheap, all-in-one cellular development kit with an even more interesting data plan. Particle would offer their own cellular service, allowing their tiny board to send or receive 1 Megabyte for $3.00 a month, without any contracts.
Thousands of people found this an interesting proposition and the Electron crowdfunding campaign took off like a rocket. Now, after a year of development and manufacturing, these tiny cellular boards are finally shipping out to backers and today the Electron officially launches.
Particle was kind enough to provide Hackaday with an Electron kit for a review. The short version of this review is the Electron is a great development platform, but Particle pulled off a small revolution in cellular communications and the Internet of Things
The Current State of Machine to Machine Cellular
Small microcontroller dev boards are nothing new. The technology to turn a hat, belt buckle, or bicycle into something that receives data from a cellphone tower has been around for more than a decade now, and a few very old blogs and forums preserved on archive.org reflect this fact. An old Siemens, Nokia, or Motorola phone, with the right serial cable,could be a microcontroller's connection to the outside world.
More recently, Sparkfun and Adafruit have been putting together their own cellular modules for Arduinos and other similar boards. These modules, like SparkFun's Cellular Shield, Adafruit's FONA, and Seeed's RePhone all provide easy-to-use cellular modules that plug into an Arduino. The problem is phone companies historically didn't want to deal with a bunch of Arduinos blinking LEDs through their network.
While one would think more devices on a cellular network would be a good thing for a carrier, this is not what [Zach Supalla], CEO of Particle, found when creating the Electron. The success of a carrier in the eyes of shareholders depends on ARPU, average revenue per user, or the total revenue divided by the number of subscribers.
While the ARPU is great when AT&T, Sprint, and Verizon are selling multi-Gigabyte plans to smartphone users, it's a terrible measure if a company is selling a lot of cheap one Megabyte plans. The economics of cellular carriers is why we don't have a cellular Internet of Things; it doesn't make sense for the carriers to do it.
Instead of going through the usual cellular carriers, Electron users will be getting their service directly through Particle. It's a setup called a Mobile Virtual Network Operator, or MVNO, that allows carriers to work through Particle to provide plans without much data but at a very low price.
It's a setup that works well for a cellular device that's the size of a stick of gum. If you walk into your old Radio Shack, you will get blank stares (again!) if you ask about a low-cost plans that provide just a few Megabytes of data. Setting up a SIM card with Particle is as simple as entering a few digits into a webpage, entering your credit card info, and enjoying a Megabyte per month of data on a tiny microcontroller board.
The Hardware and Development Toolkit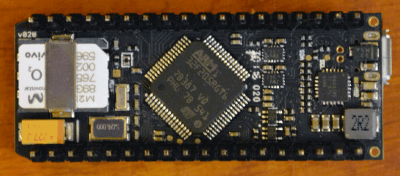 Particle already has a few hardware products under their belt, such as the Particle Photon and Core, a very popular ARM and WiFi development board. It's incredibly useful for people who don't want to futz around with bare ESP8266 modules. To anyone who has ever used a Photon or Core, the Electron will quickly become very familiar.
Tucked away on the bottom of the Electron is the STM32F205 microcontroller, presenting 36 total pins to the outside world. The functions presented on these pins include UART, SPI, I2C, and CAN bus. In total, there are 12 ADC channels, 3 UARTs, 2 SPIs, 1 I2C, 2 CAN, 2 DACs, and 13 PWM channels. 1 MB of Flash is included, and 128k of RAM is available.  It's an extremely capable board if you compare it to the Arduinos of a few years ago, and can go toe to toe with slightly more modern boards such as the Teensy 3.2.
The entire hardware design for the Electron is open source. Incidentally, Particle used Eagle to design the board.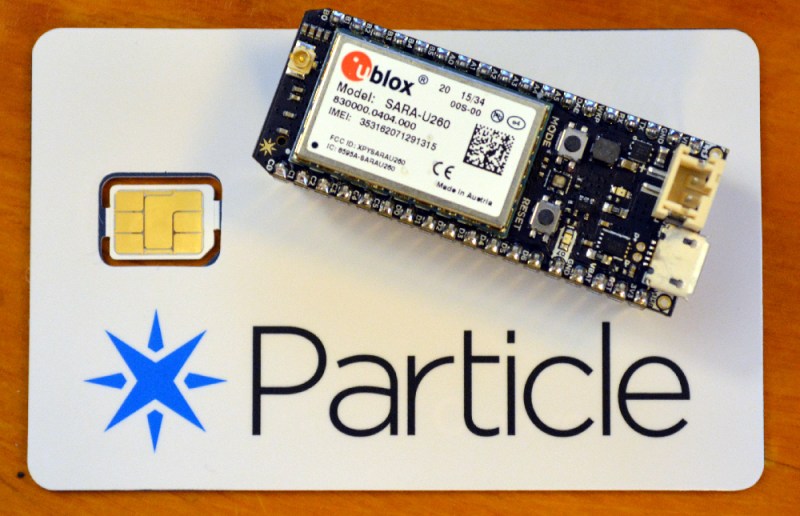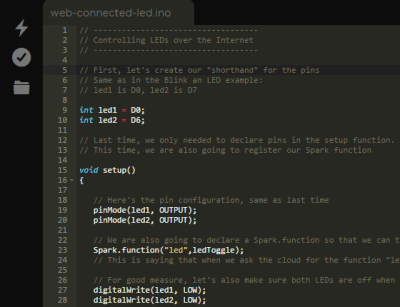 As for development for the Electron, choices abound. The easiest by far is a web-based Arduino-like development environment, Particle Build. Just like the Arduino IDE, Build will give you just enough to write some code and flash it to your device. Libraries for GPS modules, LCDs, switches, temperature sensors, and everything else that would normally be used in a one-off Internet connected project abound. While it's not a full-blown IDE, it's good enough and allows for over the air flashing of the Electron.
Particle's Tinker app, a smartphone-based development environment is also available for the Electron. This app will allow you to read and write individual pins in a strange, 'you know what's cool? Visual programming' way.
Javascript is possible on all of Particle's devices, CLIs are easy, and if you're coding for iDevices, your SDK is right here.
There are more than a few people who believe that a web-based IDE, especially one hosted on a server you don't own, is a terrible idea. Lucky for us, Particle has made all their development tools open source, allowing anyone to roll their own personal cloud. For anyone concerned about the usefulness of Particle's boards five or ten years down the line, this is a necessary feature.
This slideshow requires JavaScript.
 The Future of the Electron and Particle Cellular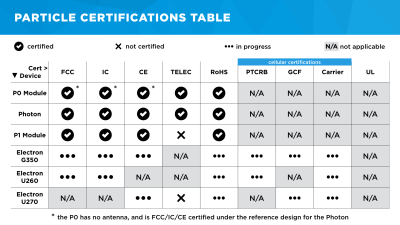 More than any other Internet of Things company, Particle is seeing a lot of their modules become the basis of real products. There's a reason for this: they're one of the few hardware developers that are sinking money into certifications. If you wanted to build a device with a Particle Photon inside it, the certifications are already taken care of. The FCC and cellular certifications for the Electron module are in the works, but [Zach] says that will happen.
Of course, any developer building a piece of hardware with Particle boards probably isn't using a stock Photon or Electron. There's no need for USB ports or pin headers when a board is stuffed inside a black box, anyway. For the smarts that go into a product, Particle already has a WiFi module, the P0 and P1, and [Zach Supalla] says Particle is considering a cellular module that would also be FCC and CE certified.
The Electron is a great piece of hardware, but it's not the biggest development in the world of cellular-enabled hardware. That would be Particle's MVNO and the no-contract, one Megabyte cellular plan that costs only a few bucks a month. The burning question on everyone's mind is, 'will Particle sell SIMs to people who want to roll their own hardware?'. The answer to this, at least for now, is yes. Even if you're not interested in the Electron itself, the cheap cellular plan is undeniably interesting. It's cheaper than other MVNOs like Ting, is designed to be a purely machine to machine plan, and it will be coming soon.
The Requisite 2G Warning
Particle is offering three version of the Electron. Two are for 3G networks – the U260-based board is for North America, the U270 is for Europe. The third version of the Electron is for 2G networks. The 2G version is $20 cheaper, but this may be a false economy. In the US, AT&T will begin shutting down 2G networks "soon" – either starting January 1, 2017, or whenever it doesn't make economic sense to keep the 2G networks running.
Conclusion
Particle already has a lot of experience building Internet of Things things. The Core and Photon are excellent WiFi development boards with a strong development platform and a very capable cloud backend. The Electron is the continuation of this, expanding the Internet of Things to devices that move more than a few hundred meters when being used, or operate where WiFi networks aren't available.
While the hardware is good, the big story here is Particle becoming a cellular network. Smartphones, as we know them today, have been around for nearly a decade and until now, no one – at least at a large carrier – has realized the value of giving a few kilobytes of data a month to tiny battery-powered devices. Somehow or another, Particle solved this problem, and they're not locking it down to only their devices.
Particle will be shipping rewards out to Kickstarter backers beginning today, and the Electron (and SIM) will be available on the Particle website in due time.