A few motors, propellers, a camera, maybe a wire tether, and some waterproof electronics. Throw it all together and baby you've got an underwater Remotely Operated Vehicle (ROV) cooking! It all sounds simple on the surface, but underwater ROVs are a tough challenge. We've all seen deep-sea ROVs searching the wreck of the Titanic, or working to stop the flow of oil below the Deepwater Horizon. Plenty of hackers, makers, and engineers have been inspired to build their own underwater ROVs. This week on the Hacklet, we're spotlighting at some of the best ROV projects on Hackaday.io!
We start with [Tim Wilkinson] and BorgCube ROV. [Tim] has jumped into the world of underwater ROVs with both feet. BorgCube is designed to operate in the unforgiving salt waters of the Pacific Ocean. This ROV can see in stereo, as [Tim] plans to use a head mounted VR display like the Oculus Rift to control it. [Tim] wanted to use a Raspberry Pi as the brains of this robot. Since the Pi Compute module can handle two cameras, it was a natural fit. The electronic speed controls are all low-cost Hobby King R/C car units. [Tim] created a custom circuit board to hold all 12 ESCs. This modular design allows individual controllers to be swapped out if one meets an untimely doom. BorgCube is just getting wet, but with 37 project logs and counting, we're sure [Tim] will keep us posted on all the latest action!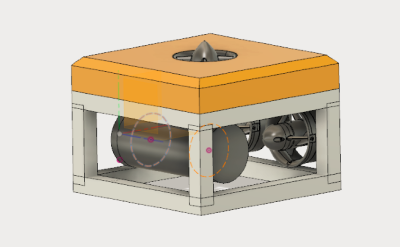 Next up is [MrCullDog] with Luna I ROV. Inspired by a professional underwater ROV, [MrCullDog] decided to build a deep diving unmanned vehicle of his very own. Like BorgCube above, many of Luna I's motors and drive components come from radio controlled hobby electronics. [MrCullDog] is bringing some 3D printed parts into the mix as well. He's already shown off some incredibly well modeled and printed thruster mounts and ducts. The brains of this robot will be an Arduino. Control is via wired Ethernet tether. [MrCullDog] is just getting started on this project, so click the follow button to see updates in your Hackaday.io Feed.
Next up is [Edward Mallon] with The Cave Pearl Project. Not every underwater system needs motors – or even a human watching over it. The Cave Pearl Project is a series of long duration underwater data loggers which measure sea conditions like temperature and water flow. [Edward's] goal is to have a device which can run for a year on just three AA batteries. An Arduino Pro Mini captures data from the sensors, time stamps it, and stores it to a micro SD card. If the PVC pipe enclosure keeps everything dry, the data will be waiting for [Edward] to collect months later. [Edward] isn't just testing in a swimming pool, he's been refining his designs in open water for a couple of years now.
If you want to see more under (and above) water projects, check out our updated waterborne projects list! If I missed your project, don't be shy! Just drop me a message on Hackaday.io. That's it for this week's Hacklet. As always, see you next week. Same hack time, same hack channel, bringing you the best of Hackaday.io!