Remember Pogs? They're back, in OSH Park form!
Some of you might be too young to remember, but the 90s were weird. If you need an example of this, you need only look at pogs. This was a schoolyard game using small cardboard discs and metal or plastic 'slammers'. To play, stack the cardboard pogs, throw a slammer at the stack, and collect all the pogs that land face up. Of course, each cardboard pog was printed with full-color glossy pop culture images and were as collectible as comic books and baseball cards. The Bart Simpson 'Public Enemy #1' pog is highly prized. You could trade a pack of dunkaroos for three holofoils. I'm still looking for Animaniacs #27; my set is otherwise complete.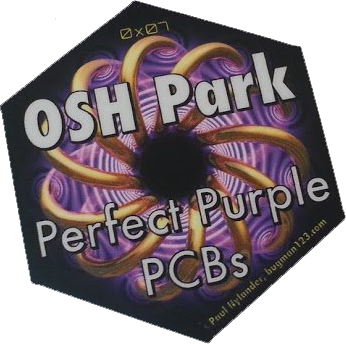 For the past few years, OSH Park, purveyors of perfect purple PCBs, put purple stickers into purple padded envelopes in each order. These stickers weren't really anything special – just a rectangle with one rounded off corner, a gear, and the OSH Park URL. A few months ago, [Laen] at OSH Park ditched these plain purple stickers for something that taps into the same sentiment as the Apollo 13 pogs distributed through Hardee's kids meals that included a modular Saturn V-shaped pog case and an aluminum slammer embossed on the obverse side with the Apollo 13 mission patch.
OSH Park's newest stickers are numbered, limited edition, and feature unique artwork for each sticker in the series. They're also hexagons, allowing anyone to tessellate their love for OSH Park all across their laptop. These are the OSHexagons, OSH Park's newest stickers. Right now, [Laen] is drawing up and releasing about one design per month, with seven stickers out so far. Holding fast to OSH Park's ideal of open standards, the OSHexagons utilize the Open Sticker Standard (yes, there is a standard for everything), making these stickers a regular hexagon that can be inscribed in a circle two inches in diameter.
While most of these stickers have runs in the thousands, OSH Park pulled a page from the history of pog and introduced a very special, limited edition OSHexagon. Only 500 of the beautiful purple and gold 0x03 stickers were produced, making these collectors items equal in stature to the famous zinc alloy Austin 3:16 pog slammer.
As far as marketing goes, giving away a sticker with every order is pretty standard. The Hackaday Store includes a die-cut Jolly Wrencher with every order, but we order thousands of these every few months for events and shows. OSHexagon 0x03's limited production turns it into an object to be cherished – coveted, even – that is easily digested by the gaping maw of fringe electronics trade journals and blogs. It's a tour de force of marketing not seen since the 90s.
What's next for OSH Park? If we're following 90s trends and fads, you would think Beanie Babies would be next. Luckily, they already have that covered.