Winner of the third place in last year's Hackaday Prize was [Chris Low]'s Light Electric Utility Vehicle. In case you think that once a Hackaday Prize is in the bag then that's it and the project creator packs up and goes home, [Chris] dispels that idea, he's invested his winnings straight back into his project and posted his latest progress on an improved Mk3 model.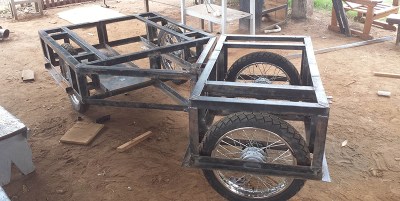 We first covered the Light Electric Utility Vehicle back in June 2015 when it was first entered for the 2015 Hackaday Prize. The aim was to produce a rugged and simple small electric vehicle that could be powered by solar energy and that was suitable for the conditions found in South Sudan, where [Chris] works. The vehicle as we saw it then was an articulated design, with chain drive to bicycle-style wheels. The Mk3 version by comparison has lost the articulation in favour of rack-and-pinion steering, has in-hub motors instead of chain drive, and now features coil-spring suspension. You might comment that it has lost some of its original simplicity and become something more like a conventional electric UTV, but along the way it has also become more of a practical proposition as an everyday vehicle.
You can follow the entire build log on the Light Electric Utility Vehicle's project page on hackaday.io, and below the break have a look at [Chris]'s video showing it in action.
This project was an entry in last year's prize, but the 2016 competition is in full swing. Head on over to the Hackaday Prize site for full details.
We've featured many electric vehicles here at Hackaday over the years, some of which have a more entertaining purpose than this one. There was this electric dune buggy for example, this electric Posche 911 conversion, or this electric motorcycle. Please, keep them coming!