Kickstarter is not a store. Indiegogo is not a store. No matter what crowdfunding platform you're on, you're not in a store. This is an undeniable truth, and no matter how angry you are about not being able to bring a cooler with a blender to the beach this summer, you did not buy this cool cooler, you were merely giving someone money to develop this cooler.
This reality may seem strange for the most vocal Internet commenters out there, leading them to the conclusion their pledge for a crowdfunding campaign was an investment. Surely there must be some guarantee in a single pledge, and if it's not exchanging money for some consumer goods, it is exchanging money for a stake in a company. If that were true, backers of the Oculus Rift would have received several thousand dollars each, instead of a $600 VR headset.
Crowdfunding is not a store, and according to Kickstarter and Indiegogo, it is not an investment, either. Last week, the Securities and Exchange Commission's rules for "crowdfunded investing", "Regulation Crowdfunding", or "Title III Crowdfunding" kicked into gear. Is this the beginning of slack-jawed gawkers throwing their life savings into a pit of despair filled with idiotic consumer products that violate the laws of physics?
All Hail Government Regulation
The turn of the last century was the wild west for investment in the United States. Unencumbered by any sort of regulation on securities, any fly-by-night operation could receive investments in an oil well out west, a gold mine, or a buggy whip manufacturing outfit. In the early teens, up until the Great Depression, states enacted their own laws concerning the sales of securities to protect investors from fraud. After the Great Depression, and thanks to a new-found use of the Commerce Clause, these state laws were cobbled together to create the Securities Act of 1933.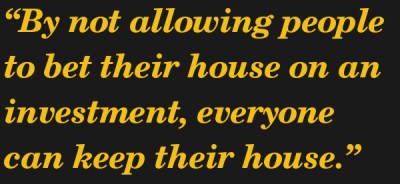 If the Securities Act of 1933 could be summed up in one word, it would be, 'disclosure'. The 1933 act requires companies to provide yearly and quarterly reports, financial statements, and other statements to the SEC. These reports are ostensibly for the benefit of investors, but not everyone can be an investor. For many types of securities, only accredited investors, defined in the United States as a person with an income above $200,000 per year, or a net worth above $1 Million, excluding the value of a primary residence.
A person who makes $200,000 a year is in the top 1% of earners in the United States, and the Securities Act, and subsequent Dodd-Frank Act, effectively bans 99% of the population from certain investments. Although giving people with more money more privileges may seem completely arbitrary and un-American, no one has ever suggested stupid people could survive in a libertarian's paradise. By not allowing people to bet their house on an investment, everyone can keep their house.
Easing Restrictions For Everyone
For nearly 100 years, Joe Schmo has been cut out of the first rounds of investment for nearly every company. In 2012, President Obama signed the JOBS Act, backronymed the Jumpstart Our Business Startups Act, which gave startups the ability to raise money from everyone, not just the 1%.
The relevant section of the JOBS Act, Title III, is entirely dedicated to crowdfunding. There are many restrictions, both for companies seeking investment, and for investors themselves.
The companies targeted by Title III are very small, and crowdfunding of investment funds is banned entirely. For the investors themselves, the yearly limits on how much money they are able to invest is likewise very small. Anyone earning $100,000 or more per year may invest $10,000 or 10% of their income, whichever is less. Anyone earning less than $100,000 per year may invest 5%, or $2,000, whichever is greater.
As with any new investment tool, a number of companies have popped up to support this new age of crowdfunded investing. This is not a market Kickstarter is expected to target, and the smart money tells us they will not. Instead, new companies will pop up in the this freshly created equity crowdfunding industry. Already, these new investment crowdfunding sites have several successful campaigns. One of these crowdfunded companies can be best described as, "Uber, but only between LA and Vegas, and only in Teslas."
I Know Who's Getting Rich Off This…
By any measure, Title III of the JOBS Act is of little consequence. It's for the person who wants to start yet another vape shop in a strip mall, but doesn't have the capital to go it alone. It's not the best way to raise money, anyway. According to SeedInvest, Title III crowdfunding doesn't even make sense. It costs too much to raise money through Title III crowdfunding.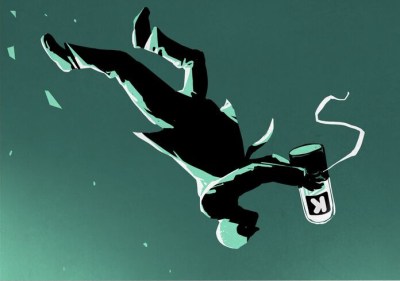 Companies don't get rich off of equity crowdfunding, and the investors probably won't either. Investors simply cannot diversify, given the paltry yearly limits on how much they may invest. Fifty percent of businesses fail in the first year, and more than 90% within five years. You gotta diversify yo bonds, and limiting the amount that may be invested means this will not happen.
There is one entity that will make money off of equity crowdfunding: the licensed dealers and brokers. From the SEC rules, companies must sell equity through a licensed dealer. It's unlikely non-accredited investors will get rich through equity crowdfunding. The limitations of Title III crowdfunding means the companies selling equity probably won't be the next Facebook or Tesla.
Equity crowdfunding is here, and it's not a Kickstarter. It's not a store, and you probably shouldn't invest in a company whose grand idea is a cooler with a blender, anyway. One thing is for certain, though: the best way to get rich is to invest in an equity crowdfunding platform.