It seems hard to imagine, but in the early part of the 20th century, there weren't a lot of great options for creating copies of documents. The most common method was to use carbon paper to create multiple copies at once from a typewriter or a line printer. All that changed with a company called Haloid. Never heard of them? They later became the Xerox company.
The underlying technology dates back to 1938 (invented by a physicist who was also a lawyer). In 1944, they produced a practical copier and shortly thereafter sold the rights to Haloid. The Haloid company originally made photographic copy machines that used wet chemistry.
In 1959, the Xerox 914 (so called because it could copy a 9″ x 14″ document) came on the scene (that's it, below). The 650 pound copier could make seven copies per minute and came with a fire extinguisher because it had a tendency to burst into flames. If you didn't want to spend the $27,500 price tag, you could rent for only $25/month (keep in mind that in 1959, $25 would buy about 25 pounds of T-bone steaks). You can see a commercial for the 914 in the video below.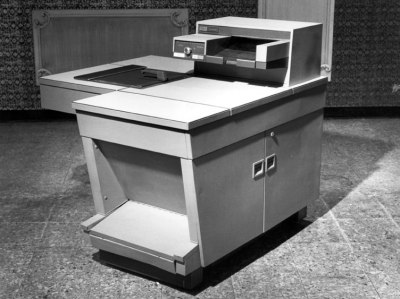 In the commercial, you'll see them make a big deal out of the fact that the print was dry. That's because a lot of previous machines used actual photographic processes with wet chemistry. Obviously, that also took special paper.
Even Further Back
If the copier didn't exist until recently, how did people make copies before? Turns out there were lots of ways to make copies of varying degrees of bad quality or extreme trouble. In some sense, the best copies were made by scribes just writing down a second copy of things. There were a variety of machines that would capture what you wrote and make a copy by mechanical or other means. A polygraph (not the lie detecting kind) allowed Thomas Jefferson to write letters and make a copy. The machine moved a pen to match the movements of the author's pen, thus making a near perfect copy. With a few adjustments, this became the pantograph which not only does the same job, but also can shrink or enlarge the copy. Carbon paper was widely used to make multiple copies of handwritten and typewritten documents.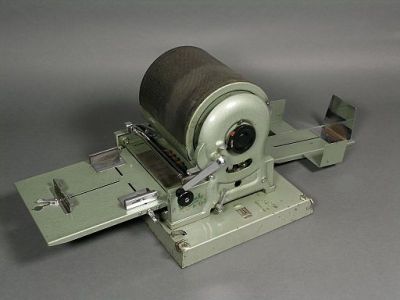 If you were willing to make a "master" to produce copies, you had even more options. Schools used to use hectographs (gelatin in a pan) to soak up ink from a master and then transfer it to paper using a wet process that left the paper swollen and crinkly. Real printers might make plates out of metal or wood. The duplicator (see right) was another popular office machine. A typewriter would cut a wax stencil. The wax contained an ink and a solvent (alcohol) would transfer the ink to the paper.
All this is just the tip of the iceberg. If you really want to dive into how people produced documents, Wikipedia has a list.
Cause and Effect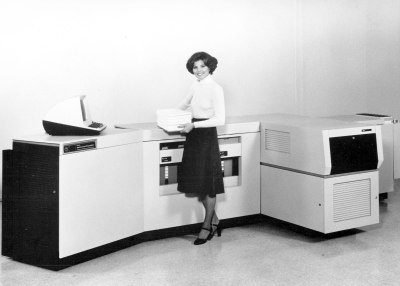 Consider this: Early computer printers were basically typewriters of one sort or another. Sure, some printers used chains and bands and daisy wheels and type balls. Some printers used just a few dots to form letters instead of type elements, but they still employed something striking a ribbon and hitting the paper.
The Xerox machine took a different approach. It charged a drum that picked up toner and pressed it on paper. At the time, it must have seemed obvious that the drum was photosensitive and "scanned" the original. But the real power would be in having a computer lay down the light using a LASER or LED light.
Not to say the original copier wasn't a breakthrough. But a bigger breakthrough was waiting behind it. Xerox did that breakthrough, as well. [Gary Starkweather] had the notion in 1969 and converted a Xerox 7000 into a laser printer in 1971. A commercial printer had to wait for the IBM 3800 in 1976. The 240 DPI printer used continuous paper like a regular line printer and could produce 215 pages a minute. The Xerox 9700 in 1977 was a bit more like a modern LASER printer, although Canon would bring the technology to the desktop in 1979. The Xerox Star had such a printer in 1981 and the HP LaserJet–which used the Canon technology–appeared in 1984.
As a side note, the Xerox 9700 source code was not available to users. This made the MIT AI Lab unhappy as they had previously modified printer source code to do things like alert users when jobs printed. One user, in particular, was especially unhappy and started thinking about why software should be open. That user? [Richard Stallman]. You could argue that the Xerox 9700 launched the free software movement.