"Quick! We're having a baby and we need a baby monitor!" Rather than run to the local big box and plunk down cash for an off-the-shelf solution, any self-respecting hacker would rise to the challenge and hit the shop to build something like this live streaming eye-in-the-sky baby camera. Right?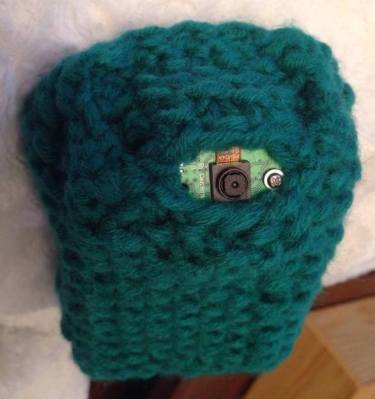 At least that's how [Antibore] handled the situation, and the results are pretty good. He designed his build around an old Raspberry Pi 2 that was hanging around. That required a WiFi adapter, and since he wanted video and audio he needed a camera and mic. The first USB mic had a nice compact design but didn't perform well, so a gutted gooseneck mic soldered right to the USB connector joined the design spec. A camera module, cell-phone quick charge battery bank, and a 3D printed case round out the BOM. A knitted cozy to keep it looking warm and fuzzy was provided by the mother-to-be — although we think it looks a little like [Mike Wazowski].
This self-contained unit will work anywhere it has access to a WiFi network. Mounted on the baby carrier, it'll provide a live stream to any browser and provide the new parents with a little peace of mind.
There are a lot of baby monitors on the market, some of them terrible and in need of a rebuild. Kudos to [Antibore] for deciding to roll his own custom solution and for getting it done before the blessed event. Now how about painting that nursery?