Wanting to experiment with using optical mouse sensors but a bit frustrated with the lack of options, [Tom Wiggins] rolled his own breakout board for the ADNS 3050 optical mouse sensor and in the process of developing it used it to make his own 3D-printed optical mouse. Optical mouse sensors are essentially self-contained cameras that track movement and make it available to a host. To work properly, the sensor needs a lens assembly and appropriate illumination, both of which mate to a specialized bracket along with the sensor. [Tom] found a replacement for the original ADNS LED but still couldn't find the sensor bracket anywhere, so he designed his own.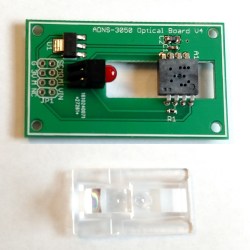 The github repository contains all the design files as well as Arduino libraries. Thinking others might share his interest in an easy to use breakout board for the ADNS 3050 that doubles as the mounting bracket, [Tom] started a Kickstarter campaign for a small production run.
Optical mouse sensors have often shown up as experimental movement trackers in hobby robotics, and even as low-res cameras. There's a lot going on in these little packages and [Tom]'s fully documented open-source design tries to make it more accessible.