How do you make the most awesome gaming peripheral ever made even more bad? Give it a 21st-century upgrade! [Alessio Cosenza] calls this mod the Power Glove Ultra, and it works exactly as we imagined it should have all those years ago.
The most noticeable change is the 3D-printed attachment that hosts the Bluetooth module, a combination USB charger and voltage booster, and a Metro Mini(ATmega328) board. On top of a 20-hour battery life, a 9-axis accelerometer, gyroscope, and compass gives the Power Glove Ultra full 360-degree motion tracking and upgrades the functionality of the finger sensors with a custom board and five flex sensor strips with 256 possible positions for far more nuanced input. [Cosenza] has deliberately left the boards and wires exposed for that cyberpunk, retro-future look that is so, so bad.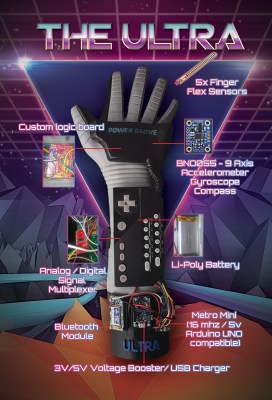 [Cosenza] has also modified a Wiimote Nunchuck controller to provide complimentary functionality for games that require an analog stick (such as a first-person shooter game). [Cosenza] aims to keep the project open source for the love of the glove and the community surrounding it, though he says the code isn't at the point where he's comfortable releasing it.
Until those files are released, our craving for something we love because it's so bad must be satiated by a few other Power Glove hacks. A few years ago, we saw the Power Glove used as the perfect tool for stop-motion animation, and take over Maker Faire with a glove-controlled drone. There's still a lot of life left in the electronic glove, and with the current trend of wearable electronics, we're only going to see more. This time, hopefully without pre-teen antagonists telling us how bad something is.
[Thanks for the tip, Nils Hitze!]