Even if you're reading this on a piece of paper that was hand-delivered to you in the Siberian wilderness, somewhere someone had to use energy to run a printer and also had to somehow get all of this information from the energy-consuming information superhighway. While we rely on the electric grid for a lot of our daily energy needs like these, it's often unclear exactly how the energy from nuclear fuel rods, fossil fuels, or wind and solar gets turned into electrons that somehow get into the things that need those electrons. We covered a little bit about the history of the electric grid and how it came to be in the first of this series of posts, but how exactly does energy get delivered to us over the grid?
Generation
It all starts at the power generating station. Whether this is a wind turbine, a diesel generator, a jet engine, or a nuclear power plant, the idea is the same: a generator must spin. Wind can blow it, an internal combustion engine can turn it, or a heat source can make some steam to drive a turbine which then spins it. (One notable exception is a solar panel which generates DC, then uses an inverter to turn that energy into AC for the grid.) Either way, once the generator is spinning then the energy begins to flow out onto the grid.
There are a few different types of power plants as well. Some power stations are good at producing a constant, large amount of power all of the time but aren't too good at changing their output to meet demand. Nuclear stations and combined cycle combustion turbines are good examples of these "base load" plants that produce power for the constant load on the grid. Since power is consumed instantly after it's produced, however, it's important to keep up with the demand so that the grid's voltage and frequency remain constant. For times with increased demand on the electric grid, such as mid-afternoon in the summer when everyone's air conditioners start working full time, peaking power plants are brought online. Often these are single cycle combustion turbines, diesel generators, or hydroelectric plants. These plants are good at starting and stopping when needed unlike large base load plants cannot be easily started or stopped.
There are other generating stations that don't fall into either category, most importantly some renewable resources. Part of the problem with wind and solar energy is that their energy production doesn't align with energy demand. Sadly, the wind isn't always blowing when people need to run air conditioners or start up a manufacturing facility. This is the reason why improved battery technology could be a huge boon to renewable energy. If solar and wind energy could be stored, these generation facilities could be used as true peaking power plants and maybe eventually base-load plants.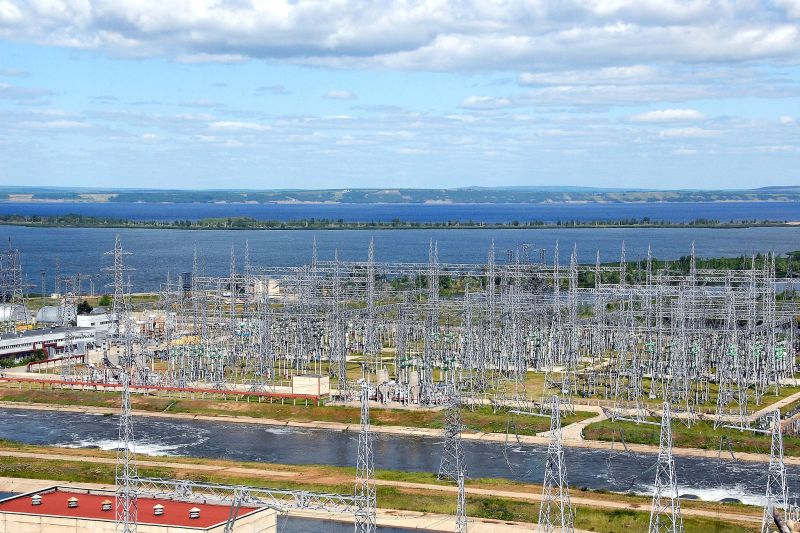 Transformers
Wherever the energy comes from, the electricity from a typical power plant will be a lower voltage (generally somewhere around 10 kV) for a large generator, for a few reasons. First, low voltage is safer and easier to work with. Second, it's cheaper to insulate low-voltage circuits. Since the windings of a generator are essentially just a whole lot of wire, a generator will be less expensive if its windings don't need a lot of insulation. To get the energy delivered long distances on power lines in an economical way, however, the voltage needs to be much higher, often in the range of 100-500 kV. To bridge the gap between the low-voltage generators and the high-voltage power lines, the energy is sent through a step-up transformer in a substation (or "switchyard") near the power plant. Similar to how a vehicle's transmission uses gears to trade speed for torque, a transformer trades voltage for current. The high-current, low-voltage electricity from the generator is "transformed" into low-current, high-voltage electricity which can now be shipped out of the power plant.
The high-voltage wires that leave the power plant's substation are called transmission lines. These are the largest of power lines, often on huge towers or poles and with no customers attached as almost all transmission lines connect substations with other substations. Transmission lines are the backbone of the power grid and without them we'd be stuck with small, Edison-style local grids with a power plant on every block.
Once the energy from the transmission lines gets to a substation that's closer to the end consumer, the voltage can be stepped down to a lower voltage and set out over a more local grid with its own set of power lines. These power lines are called distribution lines, operate at somewhere around 10-20 kV, and are what typically serve residential areas and businesses with power (although some large industries like steel mills, for example, have their own transmission line servicing their own small substation on-site). In general, there will be yet another step-down transformer outside the point of service to get the voltage down to the standard 120/240 volts.
Three Phases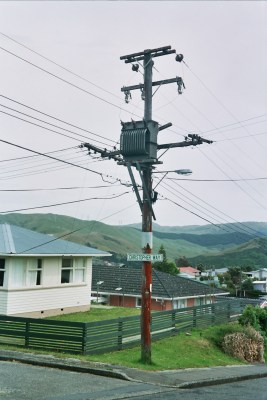 All of this might seem like a lot of effort just to ship some electricity around, but the long distances often involved make it essentially the only economical option since power losses go up with the square of the current. This means that if the current on any particular wire can be halved (by doubling the voltage through a transformer), the resistive losses will be four times lower.

While it's not immediately obvious, transmission lines are always in sets of three. Generally they will also have a smaller ground wire for lightning protection. Each wire carries one "phase" of electricity. Most of the world has settled on a three-phase system because it's the most efficient way of getting as much power delivered with the least amount of wire. It also puts less stress on generators and motors than a two-phase system would. Each phase is at the same voltage, but is at a different point in its rotation. This means that while one phase is at is peak, the other phase is one-third of a period behind and the other is one-third of a period ahead. Although somewhat difficult to wrap one's mind around at first, what it means in practice is that there is more voltage available between either two of the phases than from a single phase to the neutral or ground wire, and that its a much more efficient way of running large motors than using a single phase.
While three-phase power is useful for industry, small motors like the kind used in refrigerators, air conditioners, and ceiling fans run just fine on a single phase of power. Other loads such as electronics convert AC to DC anyway, so they also run well with only one phase. This is why almost all residential users on a grid are fed one single phase of power. In the United States, at least, the phase is split in half from a center-tapped transformer which is why there are two wires leading to a typical house. The voltage between the two are 240 volts, and 120 volts from either wire to the center-tap of the transformer. The wires are often incorrectly called "phases" but a better term would be "taps" or "legs" since splitting a phase isn't the same as having two phases as the taps or legs still have the same phase angle.
From power plant to the home, the grid is fairly simple on the surface. When it gets to the size of an entire country, though, it's not as straightforward. Power can flow and interesting ways and as we'll investigate in the next article, sometimes the entire grid can collapse.