As you know, here at Hackaday we take our audio equipment very seriously indeed. We've seen it all over the years and have a pretty jaded view of a lot of the audiophile products that come past our door, but once in a while along comes something that's a bit special. That's why today we'd like to introduce you to a new product, The Hackaday Passive Aligned Ferrite Active Quantum Crystal Nanoparticle Reference Sticker.
Here's the problem: we're surrounded by electrical noise. You can't see it, you can't touch it, and you can't hear it, but your audio equipment can, and when that happens it will degrade your listening experience without your realising it. You might have shelled out your life savings on a top-end Hinari amp, Marc Vincent surround sound processor, Friedland carillon wire cables and a set of Saisho floor-standing speakers, but if you haven't dealt with your system's magnetic compatibility they're never quite going to reach their potential and you'll always be left wondering why your broader soundstage just doesn't zing. You need an HPAFAQCNRS.
Magnetic Compatibility
This is where the Hackaday Passive Aligned Ferrite Active Quantum Crystal Nanoparticle Reference Sticker comes in. Unlike other stickers they contain not ink, but rare-earth-doped ferrite quantum crystal nanoparticles from our Japanese laboratory, and it is the role of these particles in activating the background noise floor to achieve magnetic compatibility that produces their effect on your hi-fi. The ceaseless electromagnetic interactions and oscillations between all the items in the room such as speaker stands, wiring, CD racks and furniture are absorbed, and the problem is solved.
The results of applying the HPAFAQCNRS are astounding, and quite unlike any you will have heard before. There is simply no comparable product on the market. Bass tones are lengthened and softened, treble reaches a harder climax, and the inner coherence of the soundstage is congealed in a rich, dark, chocolatey presentation. Structural and spatial resonances disappear entirely, the audible colour of the holographic soundscape changes beyond recognition as you place the stickers around your system, and it simply gets better at mopping up the overall clarity the more stickers you bring to the auditorium. Merely reproduced sound from recordings becomes experienced sound, as though you were actually there. You are left prostrate before the altar of a sonic cathedral, and the fat lady is singing right behind your ear.
Transcendental Experience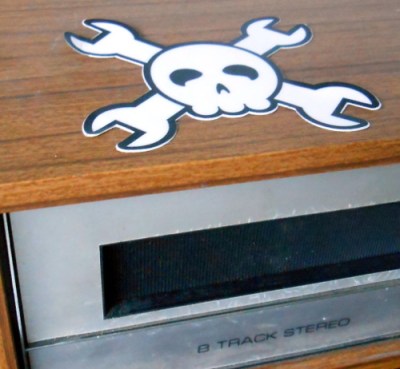 How can it possibly be that a simple sticker, merely positioned on active and passive components of your listening room, change the quality of the sound you perceive so much? How can a sound so richly and effortlessly detailed come from such a seemingly simple adjustment? It doesn't seem possible, or at least it won't until you've tried it yourself. We certainly approached them with our usual skepticism, but were blown away by the transcendental experience. Less is more, and the less you interfere with the signal path and the more you adjust the resonances of your surroundings, the more astounding will be the result.
We've put the Hackaday Passive Aligned Ferrite Active Quantum Crystal Nanoparticle Reference Sticker in our shop, such is our confidence in it. It's a snip at only $99, or $899 for a pack of ten, but if you find us at one of our many events, then you may even be able to secure one for free. Its use isn't restricted to hi-fi, if you stick one on your laptop it'll also work on your productivity.