NYC beaches are where tropical beaches addicted to meth go to die. So says [Vije Miller] in his write-up for his Arduino sand matrix printer. It's a clever idea, five servo-operated cardboard plungers that indent a pattern of dots in the sand as the device is pulled forward, resulting in something not unlike a dot matrix printer that can write messages in the sand.
He's submitted it to us as a Fail Of The Week, because it doesn't do a very good job of writing in the sand, and it's burned out a servo. But we feel this isn't entirely fair, because whether or not it has delivered the goods it's still an excellent build. Cardboard isn't a material we see much of here at Hackaday, but in this case he's mastered it in a complex mechanism that while it may have proved a little too flexible for the job in hand is nevertheless a rather impressive piece of work.
You can see a brief video below the break showing it in action. He tells us his motivation has waned on this project, and expresses the hope that others will take up the baton and produce a more viable machine.
This may be our first sand matrix printer, but it's not our first sand 3D printer.
---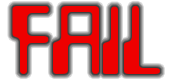 Fail of the Week is a Hackaday column which celebrates failure as a learning tool. Help keep the fun rolling by writing about your own failures and sending us a link to the story — or sending in links to fail write ups you find in your Internet travels.