Moiré patterns are a thing of art, physics, and now tool design! [Julldozer] from Mojoptix creatively uses a moiré pattern to achieve a 0.05 mm precision goal for his custom designed 3D printed calipers. His calipers are designed to validate a 3D print against the original 3D model. When choosing which calipers are best for a job, he points out two critical features to measure them up against, accuracy and precision which he explains the definition of in his informative video. The accuracy and precision values he sets as constraints for his own design are 0.5 mm and 0.05 mm respectively.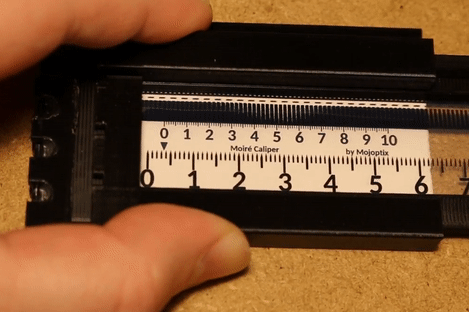 By experimenting with different parameters of a moiré pattern: the scale of one pattern in relation to the other, the distance of the black lines on both images, and the thickness of black and white lines. [Julldozer] discovers that the latter is the best way to amplify and translate a small linear movement to a standout visual for measurement. Using a Python script which he makes available, he generates images for the moiré pattern by increasing line thickness ratios 50:50 to 95:5, black to white creating triangular moiré fringes that point to 1/100th of a millimeter. The centimeter and millimeter measurements are indicated by a traditional ruler layout.
Looking for more tool hacks and builds? Check out how to prolong the battery life of a pair of digital calipers and how to build a tiny hot wire foam cutter.