When designing a microphone assembly the other day, I reached for an electret condenser microphone capsule without thinking. To be strictly accurate I ordered a pack of them, these small cylindrical microphones are of extremely high quality for their relatively tiny price.
It was only upon submitting the order that I had a thought for the first time in my life: Just what IS an electret condenser microphone?
A condenser microphone is easy enough to explain. It's a capacitor formed from a very thin conductive sheet that functions as the diaphragm, mounted in front of another conductor, usually a piece of mesh. Sound waves cause the diaphragm to vibrate, and these vibrations change the capacitance between diaphragm and mesh.
If that capacitance is incorporated into an RC circuit with a very high impedance and a high voltage is applied, a near constant charge is placed upon it. Since the charge stays constant, changing the capacitance causes a tiny voltage fluctuation that can be retrieved as the audio signal from the microphone. Condenser microphones built in this way can be extremely high quality, but come at the expense of needing a high voltage power supply to supply the charge and an amplifier to buffer and magnify the audio.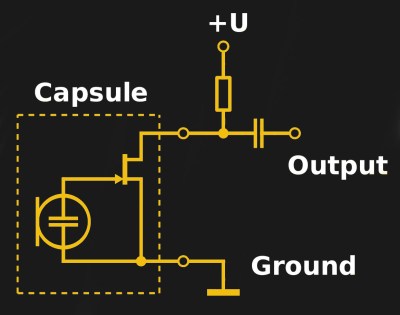 The electret condenser microphone that I bought for pennies is a capacitor microphone, so why is there no high voltage supply? The answer comes from the material that comprises its diaphragm, an electret is a material that carries a permanent charge without the requirement for a high voltage supply to maintain it. The electret microphone works in exactly the same way as any other capacitor microphone, but the permanent charge on its electret diaphragm is enough to produce a retrievable voltage across it. The capsule will contain an FET as a high-impedance buffer to provide a usable output with a DC supply from a single AA cell.
So having answered the question as to what an electret condenser microphone is, there remains a more fundamental question: just what is an electret? Surely it can't be possible for a material to retain an electrical charge indefinitely, that's magic, right? A web search finds some people who appear to think so, as it seems electrets have a crowd of "alternative thinkers" who are searching for means to harvest that static charge as a source of free energy. Clearly some meaningful information is required, and for that we head to the many chemistry and physics lecturers who have put their course materials online.
Dipoles, How Do They Work?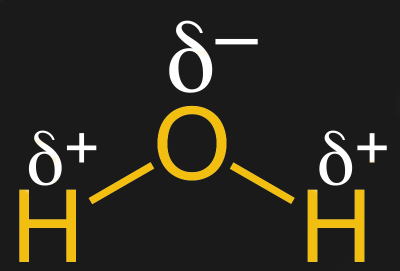 A dipole, in a chemical sense, is a molecule which possesses a difference in electrical charge between its different parts. At one end of it may be a functional group with a surfeit of electrons, while at the other may be one with an electron deficit. A commonly quoted example of a molecule with this property is water, it forms a V-shaped H-O-H molecule with the oxygen at its point having a greater negative charge and the hydrogens at its points having a greater positive one.
A solid made of molecules that contain dipoles does not have a static charge, because those dipoles are aligned in a random order such that no charge gradient occurs. But if all the molecules in a solid could be aligned such that their dipoles run in the same direction, then their negative and positively charged ends would be arranged back-to-back. Think of them as a bit like a big pile of miniature batteries in series, with the side of the material to which their negative poles point becoming rich in electrons and that to which their positive poles point becoming deficient in them.
It's important to stress though that the battery analogy works only in so far as to help visualise how the dipoles align to create a unified charge gradient, and not to give an impression of behaving as if they were a real battery. For an electret material to possess a persistent charge it must also be an insulator, for if it were an electrical conductor the charge would simply conduct and neutralise itself. Thus no current can flow from an electret material, and the free energy dreams of our alternative thinkers on the web must inevitably come to nothing.
Electret DIY
Knowing now what an electret material is, the next question from any self-respecting Hackaday reader should be "How can I make one?". To which the answer is surprisingly simple, and you will be pleased to hear one that you have a chance of doing yourself. A solid containing molecules with a dipole is melted and allowed do cool and solidify in the presence of a large electric field. This description of making an electret, written by our own [Steven Dufresne], should get you started in your well-equipped kitchen, assuming your kitchen is equipped with a 30 kV power supply.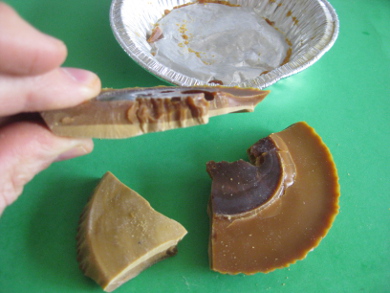 A wide variety of materials can be used to produce electrets, including a host of commonly available polymers. There are also naturally occurring electrets of which quartz is an example, and natural substances from which they can be made such as carnauba wax, beeswax and rosin. This PDF has a list of some of the materials and in particular the polymers (page 5).
If you decide to make an electret material yourself, aside from replicating a few-cent microphone at great effort, what use could you make of it? A Google Patents search returns overwhelmingly acoustic applications, with a long list of microphones, transducers, and hearing aids. There are a few other used though, for example an air filter in which the charge held by the electret is enough to trap charged dust particles in the air flow. There are passing mentions online of their past use as focusing elements for CRT displays, and the Wikipedia electret page mentions their use in photocopiers, but neither of these applications have much other information. Perhaps it's best to look upon home electret manufacture as one of those curiosities you might just try because you can.
If you make an electret successfully we'd implore you to write it up and submit it to our tips line.
Electret microphone capsules images in banner: Engineer's Garage.