Since the industrial age, air pollution has increasingly become a problem on society's radar. Outside of concerns about global warming and greenhouse gases, particulate emissions can be highly hazardous to human health. Over time, various organizations have set up measuring systems to check and report the particulate pollution level in cities around the world – but what if you could get an immediate idea on the pollution in your immediate vicinity? Enter less-smog.org.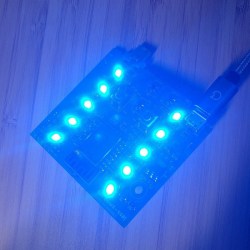 In an integration sense, it's a straightforward project. An ESP-12F is used as the brains behind the operation. This then talks to a combination of sensors to measure the local air quality. The system is set up to use a variety of temperature or humidity sensors depending on what the builder has to hand. As for particulate concentration measurements, those are achieved with the use of a PMS7003 sensor. This device shines a laser into a cavity containing an air sample from the surrounding environment and measures the scattered light to determine the concentration of particles in the PM2.5 range. This is the range most commonly used to make judgments on air quality regarding human health.
Data is collected and then output to a series of bright RGB LEDs. By turning the numerical PM2.5 reading into a color output, it becomes much simpler to get an instant idea of the pollution conditions in the immediate area. This has the benefit of being readable by even very young children, or those with poor eyesight, at the cost of leaving the colorblind and otherwise vision impaired at a loss.
The project presents a tidy way to create a series of indicators in a modern public environment that can give the average person an at-a-glance reading of whether its advisable to stay out or to head inside until conditions improve. We'd love to see this project deployed in cities to both collect data and help people gain a better understanding of the air quality around them.