Rockets with nuclear bombs for propulsion sounds like a Wile E. Coyote cartoon, but it has been seriously considered as an option for the space program. Chemical rockets combust a fuel with an oxidizer within themselves and exhaust the result out the back, causing the rocket to move in the opposite direction. What if instead, you used the higher energy density of nuclear fission by detonating nuclear bombs?
Detonating the bombs within a combustion chamber would destroy the vehicle so instead you'd do so from outside and behind. Each bomb would include a little propellant which would be thrown as plasma against the back of the vehicle, giving it a brief, but powerful push.
That's just what a group of top physicists and engineers at General Atomic worked on between 1958 and 1965 under the name, Project Orion. They came close to doing nuclear testing a few times and did have success with smaller tests, exploding a series of chemical bombs which pushed a 270-pound craft up 185 feet as you'll see below.
How Orion Works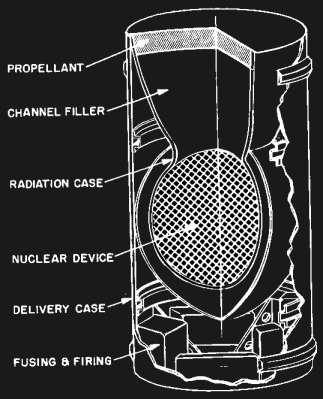 The rear of the spacecraft design consists of a pusher plate, so called because it's what the propellant pushes against. Since each explosion is discrete, the propellant arrives in pulses. Two stages of shock absorbers cushion the acceleration of those pulses and dampen them so that the overall structure and the passengers in the payload section receive tolerable accelerations of only 2 to 4 g. Depending on the vehicle size, as many as 1000 bombs could be required to get to orbit and those would be stored in magazines and moved through the center of the craft where they are thrown out an opening in the middle of the pusher plate.
The bombs themselves are made in the form of shaped charges. The nuclear device is surrounded by a radiation case shaped to channel the initial blast toward the propellant. The propellant is in the shape of a flat disk so that the resulting plasma is cylindrical, optimizing its effect on the pusher plate.
Making Orion
Polish-American scientist Stanislaw Ulam is credited with having come up with the idea for using nuclear bombs for propulsion in 1946. Shortly after Sputnik in 1957, theoretical physicist Ted Taylor decided to turn the idea into reality and initiated Project Orion at General Atomic, a division of General Dynamics. Taylor's passion was making things which explode and specifically making smaller and smaller nuclear bombs, just what Orion needed.
Getting funding for Project Orion was always difficult because none of the branches of the military could find a military use for it and NASA, a civilian organisation, had its own program for large spacecraft. They did manage to get some funding and support from ARPA, the US Air Force, the AEC (Atomic Energy Commission), and to a lesser extent, NASA.
Many in the Air Force and later, NASA, doubted that a craft could be lifted using bombs and so a flying model of some sort needed to be built to at least prove the concept.
The Flying Model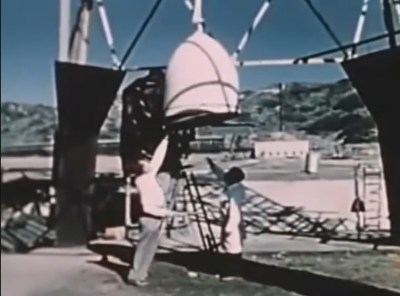 General Atomic never got permission to do testing with nuclear bombs, though a few times they came close. Instead, they did a series of tests using chemical explosives on a mesa near San Diego. These tests are detailed in the book Project Orion: The True Story of the Atomic Spaceship by George Dyson.
The purpose of the first test was just to prove that you could detonate a high-explosive charge near a structure without damaging it. Called Spaceship Number One, it consisted of an aluminum pusher plate with three stainless steel mixing bowls purchased from a local supermarket bolted on. Around 60 grams of C-4 was suspended 10 inches underneath. The result was a few scared animals including a skunk which sprayed back but no harm to the test device.
More tests followed at Point Loma, San Diego, California in 1959. Initially, they were tethered, starting with a one-foot model and then a series of one-meter models, all with a single explosive suspended below them.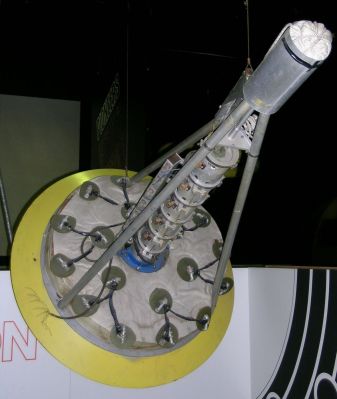 An amendment to their ARPA contract gave them permission to try for a free-flying model, which they achieved in just five months. Called the "Hot Rod", it was one meter in diameter, weighed 270 pounds, and used five 2.3 pound charges. Each charge consisted of a grapefruit-sized ball of C-4 shaped by hand and contained in a coffee-can-sized canister and cushioned with polystyrene. They were ejected from the middle of the pusher plate using nitrogen gas. Shock absorbing foam held a miniature pusher plate to the bottom of each canister to protect it from the previous blast.
A combination of electronics, mechanics, and pneumatics controlled the timing and ejection and made sure that the charges didn't explode if there was a jam or the if the craft crashed. Each canister was connected to an umbilical cord which uncoiled as the canister dropped. When the canister reached the end of the cord, a switch discharged a capacitor which powered a detonator, igniting the PETN high-explosive in the cord which then ignited the C-4. The detonation of the final charge triggered a shotgun shell which ejected a parachute from the nose for a soft landing. As an added safety feature, bleeder resistors across the capacitors made sure the capacitors discharged within fifteen minutes.
At first, it wouldn't rise. They fixed this by putting about a pound of gunpowder in a tub and launching it from there. You can see this initial explosion in the video below. That was followed by a series of flights with various mishaps such as an excessively damaged shock absorber, jammed canisters, and charges failing to detonate. But November 14, 1959's notes by Brian Dunne reported,
Flight successful in all respects. Height of rise about 185 feet. Parachute deployed at peak of trajectory. Model landed undamaged.
The results didn't prove that a nuclear bomb propelled ship would work but did convince many that bombs could be used for more than just blowing things up.
Orion Spaceships
Led by theoretical physicist and mathematician Freeman Dyson, a great deal of theoretical work and simulations were done for the actual spacecraft.
One reference design was for a 4,000 US ton (3.6 million kg) ship utilizing 2,600 bombs and capable sending a 1,600-ton payload to Earth orbit and 800 tons to Mars orbit and back. Specific impulse (Isp) is a measure of how effectively thrust is produced from a given quantity of fuel. The Saturn V rocket with its chemical fuel had an Isp of 263 seconds whereas the 4,000-ton ship's Isp with its nuclear detonations was 4,000 seconds. Each bomb's yield at sea level was 0.15 kilotons (equivalent to 0.15 kilotons of TNT) and 5 kilotons in vacuum.
The 135-foot diameter pusher plate weighed 1,000 tons. To withstand the onslaught of plasma the surface would gradually wear away, or ablate. One plan for avoiding this was to use a sacrificial coating of oil or grease which would be either applied to or pushed through the pusher plate.
The payload/passenger section was unlike that of your normal spacecraft where every effort is made to minimize mass. Instead, it was intended to be built like a submarine using steel and with all the comforts passengers could desire.
Radioactive Fallout
What about the fallout from detonating so many nuclear bombs to get off Earth? To avoid that, chemical rockets would be used to boost Orion to above the atmosphere. However, the bombs would still detonate within the Earth's magnetosphere and the fission products would slowly spiral down to the ground along the magnetic field lines. Rough estimates were that around 10 people would die from the radiation per flight. Later work on neutron bombs at the Lawrence Livermore National Laboratory later brought this estimate down to 1 person, still considered unacceptable by many.
The End Of Orion
Project Orion ended for two reasons. One was the difficulty in finding a home. Despite creative efforts to find a military use for it, none could be found which satisfied the various branches of the military. Meanwhile, NASA had its Saturn V rockets and its goal of reaching the Moon.
The second reason was the Eisenhower-Khrushchev moratorium on nuclear bomb testing between October 31, 1958 and September 1, 1961, and finally the 1963 nuclear test ban treaty still in effect today. Despite efforts to do so, all attempts to distinguish testing nuclear bombs for destructive use from testing for spacecraft propulsion failed to keep Project Orion alive. On June 30, 1965 the project was officially terminated.
If this form of nuclear propulsion sounds crazy compared to chemical rockets then perhaps you should check out our review of the book IGNITION! An Informal History of Liquid Rocket Propellants which shows that rocket fuel isn't to be taken lightly either.