Whether or not you personally like the concept of the AirPod Bluetooth headphones is irrelevant, as an Apple product one thing is certain: all the cool kids want them. That also means that plenty of overseas manufacturers are pumping out janky clones for a fraction of the price for those who are more about the Apple look than the Apple price tag. Are they any good? No, of course not. But that doesn't mean you can't do something interesting with them.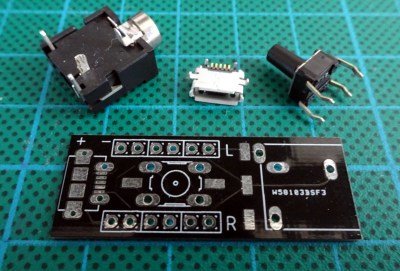 [Igor Kromin] took apart a pair of fake AirPods and was predictably underwhelmed. So much so that he didn't even bother putting the things back together. Instead, he took the two poor Bluetooth audio receivers and combined them into one slightly less poor Bluetooth audio receiver. It probably doesn't meet the classical definition of a "good" use of time and/or money, but at least he got some entertainment out of a product that was otherwise destined for the trash.
As you might imagine, the left and right "AirPod" each has its own battery, Bluetooth receiver, and speaker. It has to, as they have no physical connection to each other. That also means that each receiver is only playing one channel, making them useless individually. What [Igor] realized was that he could put together a little PCB that combines the two audio channels back into a regular stereo 3.5 mm audio jack.
While he was at it, he also wired the individual buttons on each headphone to a center button on the PCB which would allow him to physically synchronize them. Even still, [Igor] mentions that occasionally they don't come on at the same time. But what do you expect for something that's nearly a 20th the price of the original?
The last time we saw a hack related to the Apple AirPod, it was when somebody threw them out the window, so one might presume most hackers prefer their iDevice tethered.