A normal life in hacking, if there is such a thing, seems to follow a predictable trajectory, at least in terms of the physical space it occupies. We generally start small, working on a few simple projects on the kitchen table, or if we start young enough, perhaps on a desk in our childhood bedroom. Time passes, our skills increase, and with them the need for space. Soon we're claiming an unused room or a corner of the basement. Skills build on skills, gear accumulates, and before you know it, the garage is no longer a place for cars but a place for pushing back the darkness of our own ignorance and expanding our horizons into parts unknown.
It appears that Sam Zeloof's annexation of the family garage occurred fairly early in life, and to a level that's hard to comprehend. Sam seems to have caught the hacking bug early, and by the time high school rolled around, he was building out a remarkably well-equipped semiconductor fabrication lab at home. Sam has been posting his progress regularly on his own blog and on Twitter, and he dropped by the 2018 Superconference to give everyone a lesson on semiconductor physics and how he became the first hobbyist to produce an integrated circuit using lithographic processes.
Sam didn't go into the genesis of his interest in DIY ICs, but it's clear from a brief shop tour on his YouTube channel that it only came about in the last few years. In 2016, the shop seemed to contain none of the equipment that Sam would need to make his dream come true – the high-vacuum chamber, the turbomolecular pump, the tube furnace, the chemistry lab, and the optical and electron microscopes. Sam rattles off this gear in his talk like it was no big deal to obtain, and indeed tells us he scored most of it off eBay for a song. It doesn't hurt that the family home is near Princeton; college dumpsters make for the best diving.
Relatively easy though the equipment may have been to come by, knowing what to do with it was another matter. The first part of Sam's talk, a review of the physics of semiconductors, assures us that he has given himself the education needed to put the tools to work. Sam's first semiconductors, simple PN junction diodes and photovoltaics, came along pretty early in the process. His first MOSFETs were born in early 2017, about the time that his homebrew fab lab caught our attention.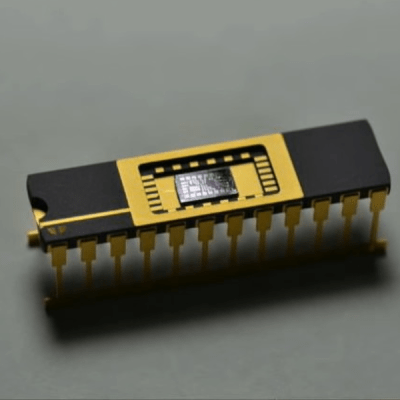 Compared to what he had in mind, though, these early successes were just a warm-up act. Sam wanted to make an IC using the same photolithographic techniques used by commercial chip fabs. He had to learn how to handle the silicon wafers, heat treat them to create an oxide layer, pattern them using a DLP projector of his own devising, learn to apply dopants sourced from roach killer and weighed with a homebrew microgram balance made from a panel meter movement, and pull a vacuum nearly equal to that of outer space in order to harness thousands of amps to deposit thin metal films. The end result: the "Z1" chip, a PMOS dual differential amplifier. Sam said the fabrication process took about 12 hours total, and while he didn't have a wire bonder to mount it to a lead frame at the time, the chip was tested and it worked.
After we ran the original piece on Sam, his mother Beth Deene contacted me to say thanks. She related that at the time, Sam was struggling with his high school's administration, who refused to approve an independent study that would have given him more time to pursue his project. She lamented that they "couldn't see the value in what he's attempting to do." It's hard to believe in this day of STEM programs that any educator could be that ignorant; indeed, even a minimally gifted administrator would have been shouting Sam's accomplishments from the rooftops as an example of what great things the district's students were capable of. The mind boggles.
Regardless of the hurdles, or perhaps because of them, Sam pressed on. He started at Carnegie-Mellon this fall, and while he now has access to their $100 million fab lab, he'll probably miss the garage where it all started.