Last weekend, I made an incredibly accurate CNC pen-plotter bot in just 20 minutes, for a total expenditure of $0. How did I pull this off? Hacks accumulate.
In particular, the main ingredients were a CNC router, some 3D-printed mounts that I'd designed and built for it, and a sweet used linear rail that I picked up on eBay as part of a set a few years back because it was just too good of a deal. If you had to replicate this build exactly, it would probably take a month or two of labor and cost maybe $2,000 on top of that. Heck, just tuning up the Chinese 6040 CNC machine alone took me four good weekends and involved replacing the stepper motors.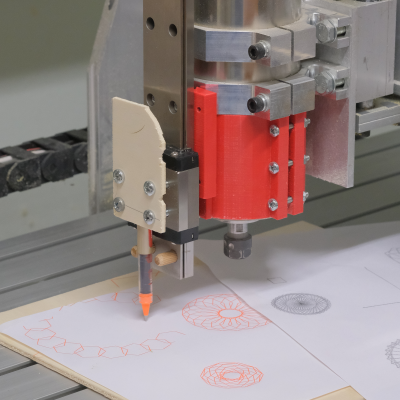 On Sunday night, I had all this stuff on hand, so for me it was free, fast, and the path of least resistance. But it's an objectively horrible idea. The linear rail is holding a pen, although it is designed to hold hundreds of newtons of side-force. Consequently, it weighs a lot. You wouldn't be able to strap it to your 3D printer chassis, which is normally a fantastic way to make a pen plotter. But I didn't need to, and the CNC can swing weight like that around all day without even complaining.
The custom mounts? I designed it a couple years ago to hold the vacuum hose for the dust shoe. But because the CNC makes such a convenient platform for all kinds of hacks, I printed out five of them. So far, I've put on a laser head, a vinyl cutter, and now a pen plotter.
The entire effort in building the pen plotter consisted of drilling holes in a piece of thin scrap plywood and screwing things together. But while I was doing so, I was laughing because of how tremendously overkill it all was. Too heavy, too rigid, too noisy, and if I didn't already have it all lying around, too expensive. It made me consider whether documenting some projects is simply worthless, because they're fundamentally irreproducible.
But here we are, and I'm showing you the project. Why? Because I'm hoping it will inspire you to make a pen plotter with whatever you've got on hand. Even just taping a pen to the hot end of a 3D printer would make an easy start, but you'll quickly run into two issues that the linear rail solved for me: holding the pen stiff in all directions except one, along which it floats freely with a little weight to hold the pen on the paper. I'm sure you can solve them, but I can't tell you how, because I don't know what you've got lying around. I don't know what your stockpile of previous hacks looks like. In that sense, we're all on our own with some hacks.
Of course there are STL files out there for a pen head that will fit your exact 3D printer model, so if that's the way you want to go, you're set. And I love reproducible hacks. But I think there's something to learn from the irreproducible, accumulative, idiosyncratic hacks as well. What do you think?