For as much old coal mines are a blight upon the face of the Earth, they may have at least one potential positive side-effect. Where the coal mine consists out of tunnels that were drilled deep into the soil, these tend to get flooded by groundwater after the pumps that keep them dry are turned off. Depending on the surrounding rock, this water tends to get not only contaminated, but also warmed up. As the BBC explains in a recent video as a follow-up to a 2021 article, when the water is pumped up for decontamination, it can be run through a heat exchanger in order to provide heat for homes and businesses.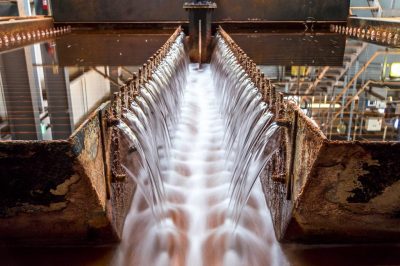 With the UK's Coal Authority claiming that about a quarter of homes in the UK are located above coal fields, this might turn centuries of clean-up into an accidental source of low-carbon thermal power. One wine producing company – Durham-based Lanchester Wines – happened to have a large warehouse located right above four layers of flooded mine workings. After sinking a borehole into the murky depths of the old High Main coal seam, they were able to pump water at a balmy 15 °C out of the ground, that combined with a heat pump turned out to be capable of heating the company's warehouses along with a range of other buildings.
As it turns out, other countries have been following a similar path, with Heerlen in the Netherlands using its old coal mines since 2008 to provide heat to local homes and businesses, along with taking in excess heat from e.g. data centers and storing this into the coal mine's water. Similarly, Springhill in Novia Scotia already began a similar project in 1989, as has Spain's Asturias region, with the latter starting its first geothermal project in 2018.
At its core, this is another example of district heating, which is not a new idea, but in many regions tends to get its thermal energy from fossil fuel plants. It also puts a positive spin on what is at its core an environmental disaster, as noted by the BBC. These mines naturally flood, which risks contaminating the local water table with heavy metals and kin, requiring constant pumping up of this water for filtering and disposal.