When [James] moved to Lima, Peru, he brought his jogging habit with him. His morning jaunts to the coast involve crossing a few busy streets that are often occupied by old, smoke-belching diesel trucks. [James] noticed that his throat would tickle a bit when he got back home. A recent study linking air pollution to dementia risk made him wonder how cities could monitor air quality on a street-by-street basis, rather than relying on a few scattered stations. Lima has a lot of taxis, so why wire them up with sensors and monitor the air quality in real-time?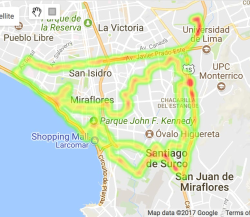 This taxi data logger's chief purpose is collect airborne particulate counts and illustrate the pollution level with a Google Maps overlay. [James] used a light-scattering particle sensor and a Raspi 3 to send the data to the cloud via Android Things. Since the Pi only has one native UART, [James] used it for the particle sensor and connected the data-heavy GPS module through an FTDI serial adapter. There's also a GPS to locate the cab and a temperature/humidity/pressure sensor to get a fuller environmental picture.
Take a ride past the break to go on the walk through, and stick around for the testing video if you want to drive around Lima for a bit. Interested in monitoring your own personal air quality? Here's a DIY version that uses a dust sensor.
Continue reading "Distributed Air Quality Monitoring Via Taxi Fleet" →