There is a huge amount of interest among our community in wearable electronics, but it is fair to say that it is a technology that has a way to go at our level in terms of its application. Some twinkly LEDs are all very well, but unless you have the arrived-on-a-spaceship-from-the-future aesthetic of someone like [Naomi Wu] to carry them off they get old rather quickly.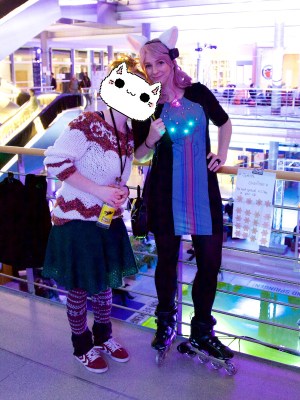 What the sew-on LED sector of wearable electronics is waiting for are some applications, wearable lights that do something rather than just look pretty. And [Moko] has a project that takes them in that direction, with her color organ dress, a garment whose LEDs react to ambient sound with the aid of a MEMS microphone and an Adafruit Gemma M0 microcontroller board. The LEDs form a color wheel which rotates, and stops at a point proportional to the sound level at the time.
The write-up is an interesting one, going into a little detail as it does in the images on the construction of an electronically-enhanced piece of clothing. Wiring everything up is one thing, but there are other considerations such as the incorporation of extra panels to protect them from mechanical stress, and from sweat. From a dressmaker's perspective it's a well constructed garment in its own right with an attractive PCB-style pattern (Where did she get that fabric? Or did she print it herself?) and it appears that she's the fortunate owner of a serger (overlocker).
Well-assembled clothing has made it here before, for example an impressive jellyfish skirt or this laser-cut arcsin dress. And should you wish to make a garment for your next wearable project, you'll be sure to need a well-stocked textile bench.