LED wristbands are now a common feature of large arena concerts and events, with a variety of capabilities and technical implementations. In the video after the break, Wall Street Journal does a fascinating deep dive into these wearable light shows.
The three main control technologies are IR light, RF radios, and Bluetooth. The IR-controlled ones are the simplest, and we've covered a teardown, a reverse engineering effort and reflash of the Pixmob IR armbands.
Finally, we get a good behind-the-scenes look at how they are controlled. Using pan-tilt IR emitters mounted on lighting towers, the operators can sweep across the audience controlling color and light levels or activating pre-programmed sequences.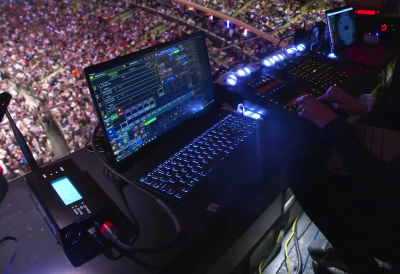 RF armbands have the simplest control setup, only requiring a single portable transmitter connected to a computer running the control software. It does however require some pre-planning for more complex light displays, to ensure each section of the audience is individually addressable.
The most advanced and expensive versions are handheld light sticks controlled via Bluetooth from an app on the users smartphone, and are popular at K-Pop concerts. Each device is linked to the users seat number, making them individually addressable and allowing the lighting operators to produce complex patterns, and even text, in the crowd.
While each of these devices is simple and underwhelming on its own, tens of thousands working together produce impressive effects and probably hide some hard-earned engineering experience.
Continue reading "Exploring The Tech Behind Concert LED Wristbands" →