Virtual reality has come a long way but some senses are still neglected. Until Smell-O-Vision happens, the next step might be feeling the wind in your hair. Perhaps dad racing a sportbike or kids giggling on a rollercoaster. Not as hard to build as you might think, you probably have the parts already.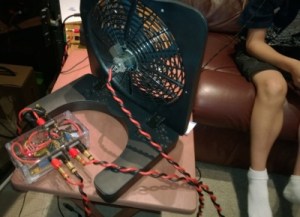 Off-the-shelf devices serve up the seeing and hearing part of your imaginary environment, but they stop there. [Jared] wanted to take the immersion farther by being able to feel the speed, which meant building his own high power wind generator and tying it into the VR system. The failed crowdfunding effort of the "Petal" meant that something new would have to be constructed. Obviously, to move air without actually going on a rollercoaster requires a motor controller and some fans. Powerful fans.
A proponent of going big or going home, [Jared] picked up a pair of fans and modified them so heavily that they will launch themselves off of the table if not anchored down. Who overdrives fans so hard they need custom heatsinks for the motors? He does. He admits he went overboard and sensibly way overbudget for most people but he built it for himself and does not care.
Continue reading ""Superfan" Gaming Peripheral Lets You Feel Your Speed" →