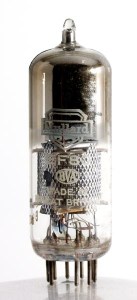 This lovely little number is the EF80 pentode thermionic valve, or vacuum tube, made by Mullard beginning in 1950. They were used in radio and radar applications, but most of them wound up in VHF television sets. This week's Retrotechtacular takes a close look at the assembly of and on-site materials production for the EF80 in particular.
The film begins with slow and careful hand assembly of an EF80. The cathode is inserted into a mica disc, and a series of three grids are placed over the cathode. The semicircular anode sits around the outermost grid. Another mica disc is placed on top which does triple duty as a spacer, a base for the getter/plate assembly, and a firewall against the getter flash.The dark lining of the upper part of the tube is the residue of the vaporized getter, which is heated after the first stage of air removal.
Before the vacuuming begins, the inner assembly is mounted on a glass base with nine pins that have been pre-bent to meet the inner assembly wires. The heater, dissipating shield, and a meshy cylinder are added, and then the getter on its plate. A tube is slipped over the assembly and fused to the base in a jig, forming an airtight seal.
Once you've seen the assembly, you'll have a better perspective for the in-house materials production. This method lends greater quality control for a large quantity of valves with identical specs. Mullard cooks up their own glass and draws it out into long rods. These are formed against an internal air current that controls the diameter and thickness. The rods are cut into shorter lengths and made into bulbs with one closed end. Finally, the tube that will be used to suck out the air is fused on and the bulbs are annealed. Each bulb is tested with a high-tension discharge between a pair of electrodes.
Perhaps the most impressive part of production happens in the tungsten department. The heater in each valve begins life as a wad of scheelite that spends seven days in a ball mill. It is chemically treated to make tungsten powder and then pressed into a bar and tempered in hydrogen and high current. The bar is drawn out in several stages into a wire measuring 1/50th of an inch in diameter. It is then drawn out further  and further still using diamond dies. A single bar of tungsten is ultimately drawn into 200 miles of wire.
Every component is subjected to numerous automated and human-administered tests before being assembled by dexterous, dainty-handed women. And then, of course, they're tested some more.
[Thank you Hedley for sending this in]
Retrotechtacular is a weekly column featuring hacks, technology, and kitsch from ages of yore. Help keep it fresh by sending in your ideas for future installments.