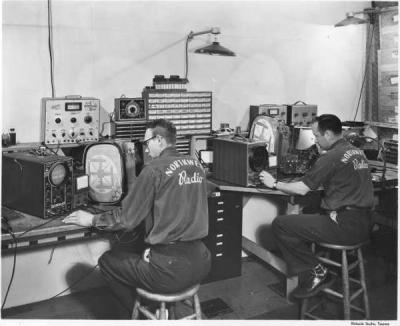 My first job out of high school was in a TV shop. I was hired mainly for muscle; this was the early 1980s and we sold a lot of console TVs that always seemed to need to be delivered to the third floor of a walk up. But I also got to do repair work on TVs and stereos, and I loved it. Old TVs from the 60s and 70s would come in, with their pre-PCB construction and hand-wired chassis full of terminal strips and point to point wiring that must have been an absolute nightmare to manufacture. We'd replace dodgy caps, swap out tubes, clean the mechanical tuners, and sometimes put a new picture tube in  – always the diagnosis that customers dreaded the most, like being told they'd need a heart transplant. We kept those old sets alive, and our customers felt like they were protecting their investment in their magnificent Admiral or Magnavox console with the genuine – and very, very heavy – walnut cabinet.
I managed to learn a lot from my time as a TV repairman, and I got the bug for keeping things working well past the point which a reasonable person would recognize as the time to go shopping for a new one. Fixing stuff is where I really shine, and my house is full of epic (in my mind, at least) repairs that have saved the family tens of thousands of dollars over the years. Dishwasher making a funny noise? I'll just pull it out to take a look. You say there's a little shimmy in the front end when you brake? Pull the car into the garage and we'll yank the wheels off. There's basically nothing I won't at least try to fix, and more often than not, I succeed.
I assumed that my fix-it bug made me part of a dying breed of cheapskates and skinflints, but it appears that I was wrong. The fix-it movement seems to be pretty healthy right now, fueled in part by the explosion in information that's available to anyone with basic internet skills.
"If you can't fix it, you don't own it."
Back in the old days, if you really needed a schematic for a TV you'd have to buy a Sam's Photofact manual, and a service manual for your car came in either the Chilton or Haynes flavors. The fact that the very people who were being asked to shell out big bucks for these manuals were the people too cheap and stubborn to pay for professional repairs somehow escaped the marketers, and so more often than not we went into a repair with nothing but basic tools and hella confidence.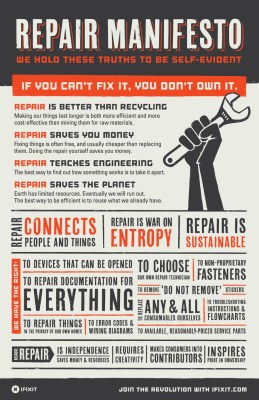 These days my first thought with most repairs is, "Someone must have dealt with this already," and I head to the Internet for a search. True, the breadth of repair information can be bewildering, while the depth of coverage can range from the incredibly detailed to the barely usable, so it can be hard to get a good signal to noise ratio for any particular repair. But the mere fact that there's so much information out there, almost all of which comes from dedicated DIYers, really speaks to the health of the fix-it culture.
Some sites are beginning to bring order to the chaos of DIY tutorials and repair information. One of my favorites is iFixit, a wiki-based site which boasts over 16,000 community-created repair guides. Their repair manifesto really resonates with me, and the stretch goal of creating a repair manual for every device in the world is a lofty but noble one. The site is very much a work in progress, and I can see myself contributing to it if I could only find the time.
There's the rub, though: time. For all the money and resources DIYers save by keeping fixable gear out of the landfill, the trade-off is the hours spent on the repair. Adding more hours to the repair in the form of documentation is sometimes tough to justify. And yet, the videos and tutorials just keep piling up, not only on iFixit but also on sites like FixYa and RepairClinic. And let's not forget the love Hackaday shows for the fix-it crowd – after all, we even have our own category for repair hacks.
For those who can't quite get past the "Warranty void if removed" stickers, or for the brave souls who delve into a project only to get into a jam, there's also a burgeoning movement toward fix-it clinics and meet-ups. The Repair Café Foundation has been offering support and organization to a world-wide network of Repair Café meetings where people are encouraged to bring in their busted stuff for a good going over with volunteer repair specialists. The idea is for the repair to be a collaborative process, with the owner putting in some sweat-equity and learning at least a little something about the repair. Hopefully this will stimulate an interest in going further with more repairs, or at least engender an appreciation for the work and demystify the process a bit. The fix-it meet-up approach is catching on, with other groups such as Philly Fixers Guild running local workshops with similar goals.
From Fixer to Builder
All these meetups and the wealth of online repair information seem to be having a positive effect on the repair movement – witness this recent Wall Street Journal feature where a reporter and admitted DIY-newbie undertook a repair on a friend's TV. The fix turned out to be a simple re-capping of the power supply, but the skills that the reporter learned from his experience might just encourage him to try another repair. Nothing builds confidence like success.
What about the next step, though? What about the step from fixer of existing devices to builder of new and wondrous things? That's where the growth of the fix-it movement can really start to pay off to the hacker culture. I think that in a lot of ways, fixing feeds hacking – folks go from scared newbie to successful fixer with the help of a mentor or just on their own with online help. Success breeds confidence, and confidence results in more attempted repairs and more experience. For the experienced fixer it's then just an incremental step from "Look what I fixed!" to "Look what I built!"
So fixers, keep fixing. Not only are you saving money and resources, but you might just be setting yourself up for taking the next step and building new stuff. And when you do hit it big and get a product to market, make sure it has user serviceable parts inside!