[Shane] made a project that speaks directly to our heart — combining laser cutting, cardboard, and gears. How could it be any better? Well, it could do anything. But that's quibbling. It's fun enough just to watch the laser-cut cardboard planetary gears turn. (Video after the break.)
It was made on a laser cutter using the gear extensions for generating gears in Inkscape, everybody's favorite free SVG editor.
In his writeup, [Shane] touches on all of the relevant details: all of the gear pitches need to be the same, and the number of teeth in the sun gear (in the center) needs to equal the number of teeth in the ring (outside) divided by the number of planets (orbiting, in the middle). So far so good.
We're watching it go for a few minutes, and then thinking to ourselves, isn't something else supposed to be turning? How does this thing transmit power?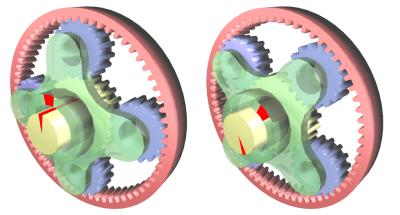 A quick Wikipedying yielded the answer. It doesn't have a race connecting the planets together! The planets rotate the sun just fine, but without tying them together and driving something else, it's all just a show.
We demand satisfaction! [Shane] you owe us a carrier race. We e-mailed [Shane] directly. He said that was his next step, but there's nothing like a lighthearted public shaming for project motivation!
In the meantime, get your gear fix by ogling this planetary-gear based clock or this retrotechtacular Army film.