When we think of the average hot rodder, we think of guys and gals that love anything on four wheels. They're good with hand tools, fabrication and know the ins and outs of the internal combustion engine. Their tools of the trade are welders, grinders and boxed-end wrenches. But their knowledge of electric circuits doesn't go beyond wiring up a 12 volt DC tail light. On the surface, the role of a hot rodder would seem quite different from that of a hardware hacker. But if you abstract what they do, you find that they take machines and modify their design to make them do something more than they were originally designed to do. When viewed in this light, hot rodders are hackers.

Today's cars and trucks use highly sophisticated electronic controls to keep them running at optimal performance. Without a solid background in computer electronics, a hot rodder will be faced with a near impossible challenge when trying to make any substantial modifications to a modern motor vehicle. This is one of the reasons why they stick with older vehicles. As a general rule, a hot rodder wants nothing to do with a car or truck made after the year 1980.
As time marches on and new generations of hot rodders fire up their first TIG welder, it is inevitable that they will begin to be lured into our world with the hope of hot rodding more modern cars. Newer cars and trucks use a computer system called a Power Train Control Module, or PCM for short. PCM hacking groups have popped up everywhere and hot rodders are becoming more and more familiar with terms like CAN bus, EEPROM and FLASH. ROM burners and Bus Pirates are beginning to lay alongside wrenches and socket sets in tool chests across the world. This new generation of hot rodders are becoming electronics hackers by necessity.
Hot Rodders, Hackers and Reality TV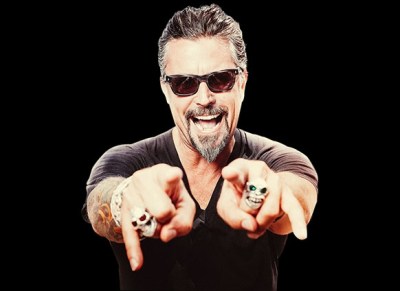 It's important to recognize the relationship between the modern hot rodder and certain types of hackers. We are all aware of the car hacking movement that attempts to break security and crack protocols. The typical hot rodder is not interested in this approach. Their interest lies in modifying the motor vehicle for performance enhancements and to make it do that which the design engineer never intended it to do. An example of such a case was recently played out in a reality television show called Fast N' Loud.
Fast N' Loud is a popular TV series that has been running on the Discovery Channel since 2012. It's based on a real hot rod company in Dallas, Texas called Gas Monkey Garage. They make real hot rods, and have been doing so long before the Discovery Channel flooded the garage with camera crews. But because they're part of a reality TV series, questions and allegations began to stir about their true capabilities. We all know how TV works, and we all know a lot of stuff is faked for entertainment value.
The Challenge
A little group of hot rodders who call themselves Roadkill attempted to out the crew of Gas Monkey Garage by challenging them to a build-off. I say little…they have a YouTube channel that averages 3.5 million views per episode. So they're large enough to get their voice heard, but are not beholden to any television network or advertising conglomerate. They were real people making a real challenge to what they felt was a fake hot rodding outfit that was busy making a TV show, and not real hot rods.
The challenge was straightforward. They would each build a car and race on a eighth-mile drag strip. The fastest car would be declared the winner. The only rule was that the car had to use a 2015 Dodge Hellcat HEMI power train in an older body style car.
Poking the Bear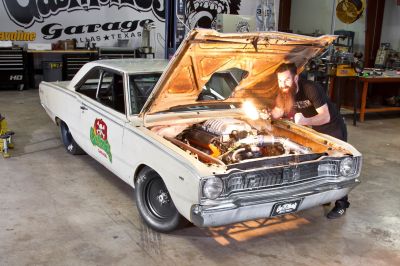 If the Roadkill crew had done a little homework, they would have found that the owner of Gas Monkey Garage, [Richard Rawlings], was no amateur hot rodder. He's won the Gumball 3000 and Bullrun Rally twice, and holds the current world record for the Cannonball run, driving from New York to Los Angeles in 31 hours and 59 minutes. His sidekick, [Aaron Kaufman], is a highly intelligent mechanic and fabricator who grew up much like you and I – taking things apart and figuring out how they worked.
Needless to say, when the two heard of the Roadkill challenge and the attacks on their credibility, they took it seriously. Very seriously.
Hackers to the Rescue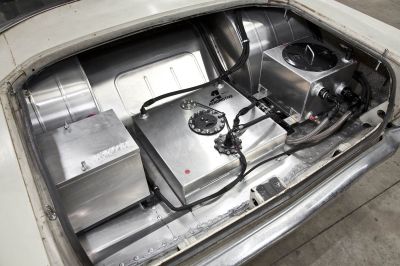 Fitting a 2015 Hellcat power train into an older car was no easy task. Firstly, this was a drag race. So the car needed to be as light as possible while still being safe. [Aaron's] approach to this problem was to strip all of the unnecessary equipment out of the car AND off the Hellcat engine. This presented a problem for the engine, however. Today's modern engine PCMs expect to see things like the power windows and windshield wipers. You can't just unplug the stuff and toss it. This was a lesson that [Aaron] and his crew at Gas Monkey learned the hard way. After they got the engine in and wired up, it would not start. Lacking the knowledge needed to program the PCM to ignore all the stuff they had ripped out, he was forced to call in help.
The team at a company called Diablo Sport was known for their mastery of all things Chrysler, including PCM programming. A team of their best guys flew in the Friday before the race, and after 6 hours of tinkering with the PCM, they finally got the car to start.
Roadkill had the same engine, so they would have had the same problem. Their method to resolve this issue was to stuff all of the unneeded electronics in the trunk and extend the wiring to the engine. The extra weight would be their downfall, allowing the Gas Monkey built hot rod to win the race by running the 1/8th mile in just under 6 seconds.
Witnessing the hot rodders hacking the 2015 Hellcat HEMI engine sheds light on a new breed of hacker. A cross between a bits-and-bytes hacker and a nuts-and-bolts hot rodder – a hot rod hacker. We in the hacker community welcome our hot rodder friends, and look forward to hearing about some more hot rod hacks.
[youtube https://www.youtube.com/watch?v=HRD4Z5R8s2c&w=560&h=315%5D
Sources