We're great proponents (and beneficiaries) of open-source hardware here at Hackaday. It's impossible to overstate the impact that the free sharing of ideas has had on the hacker hardware scene. Plus, if you folks didn't write up the cool projects that you're making, we wouldn't have nearly as much to write about.
We also love doing it ourselves. Whether this means actually etching the PCB or just designing it ourselves and sending it off to the fab, we're not the types to pick up our electronics at the Buy More (except when we're planning to tear them apart). And when we don't DIY, we like our electrons artisanal because we like to support the little guy or girl out there doing cool design work.
So it's with a moderately heavy heart that we'll admit that when it comes to pre-built microcontroller and sensor boards, I buy a lot of cheap clones. Some of this is price sensitivity, to be sure. If I'm making many different one-off goofy projects, it just doesn't make sense to pay the original-manufacturer premium over and over again for each one. A $2 microcontroller board just begs to be permanently incorporated into give-away projects in a way that a $20 board doesn't. But I'm also positively impressed by some of the innovation coming out of some of the clone firms, to the point that I'm not sure that the "clone" moniker is fair any more.
This article is an attempt to come to grips with innovation, open source hardware, and the clones. I'm going to look at these issues from three different perspectives: the firm producing the hardware, the hacker hobbyist purchasing the hardware, and the innovative hobbyist who just wants to get a cool project out to as many people as possible. They say that imitation is the sincerest form of flattery, but can cloning go too far? To some extent, it depends on where you're sitting.
The Open-Source Innovators vs The Clones
Let's start off by looking at the clones from the perspective of the firm whose work is getting cloned. These are the firms that put their open-source designs out there to help their customers better understand the product, and the thanks they get is another company producing the same thing and selling it for less. Naturally, you'd expect the manufacturer's perspective to be pretty bleak, but at least in a limited sample of some successful (!) firms, it's not so bad.
Sparkfun
[Nathan Seidle]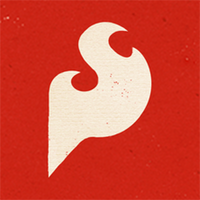 , the founder of Sparkfun, gave this great talk on his perspective on open source hardware, and he spends a lot of time talking particularly about the clones. He starts off with the seemingly fatalistic observation that if you're making anything interesting in his market, it'll be cloned within twelve weeks, while patenting something can take years and costs time and money to enforce. In this climate, you might as well open-source because it helps your customers, and you're going to get cloned anyway.
Rather than take this as a negative, [Nathan] claims that this competitive pressure from the clones pushes them to always come up with something new and focus on providing other, non-clonable services to their customers, like education. He brings up Kodak as a counterexample — their hefty portfolio of patents and tendency to sue rather than innovate led them to stagnate and eventually go bankrupt. The short version of [Nathan]'s view is that the clones force Sparkfun to stay focused, evolving, and competitive. Being fat and lazy on top of a mountain of patents may be good for the short run, but he thinks it's bad for the firm in the long run.
Adafruit
[Limor Fried], the "Lady Ada" of Adafruit, also gave a talk on why her company open-sources everything. For [Limor], open-sourcing is a moral value; it's good to share. Rather than focus on the competition that comes from the clones, [Limor] says that the fear of being copied is much worse than the reality. They just don't harm her business as much as she'd feared. Instead, she focuses on the societal and other benefits of developing in the open that outweigh the cost.
What little attention [Limor] pays to the clones, she seems to think that they're probably useful. She talks about how an old project of hers got cloned — the x0xb0x — a clone (oh the irony!) of the Roland TB-303 bassline machine. Her points about the x0xb0x project are again mostly moral: it's good to share, and if you open the project up, it will outlive your commitment to it. Indeed, she made a bit of money on the project, but essentially lost interest. It would be a tremendous shame if you couldn't make authentic mid-90s acid basslines, and the world is clearly a better place because she opened up the design and there are a handful of clone firms doing the production work for her even today.
Arduino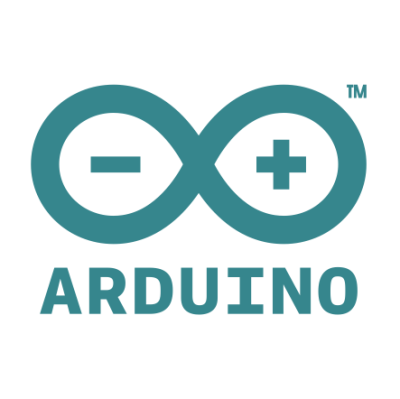 Finally, no review of open-source hardware would be complete without mentioning Arduino. With the possible exception of the Arduino Yun, the Arduino boards have been open hardware from the beginning. And they've also been cloned from the beginning. In 2013, after some lawsuits against Kickstarter projects that were probably infringing on the Arduino trademark, [Massimo Banzi] felt he had to clear the air on the clones.
[Massimo]'s blog post basically called out the counterfeit Arduinos, but also touched briefly on the legitimate clones. [Massimo] says that of course making Arduino clones is ok, but he also asks that if you're making a clone board that you at least make it different in some dimension other than simply price.
Overview
In summary, here are the cartoon-sketches of three important players' thoughts on getting cloned, and they're all different.
Clones: What are they Good For?
If business owners have a mixture of fear and loathing toward the cloners, they're surely a bad thing, right? No way! Clones bring two important economic elements to the manufacture of electronic modules: competition and economies of scale. For the consumers of electronic doodads, cloners provide both a cheaper alternative right now, and exert downward pressure on the prices of other firms in the industry. Don't apologize for buying clones, revel in them!
Monopoly, Competition, and Social Welfare
Economists have this funny idea of perfect competition. In their models, there's an infinity of potential firms competing to sell you exactly the same item. Because the only way the firms can distinguish themselves is on price, they each lower their prices until they can just barely cover the cost of producing the item, plus "normal economic profits". Sounds a lot like cloned open-source projects, doesn't it?
Competition is in stark contrast to monopoly, where only one firm sells a particular good and market demand is the only factor that constrains their pricing. These polar extremes are idealized cases that fit nicely into theoretical models; real-world examples are nearly always somewhere in between.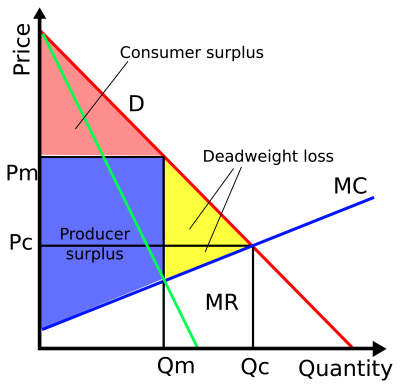 A whole bunch of economic theorems show that perfect competition is the socially optimal arrangement — that the maximum number of people get to buy their stuff at the cheapest possible price. Monopolies, however, end up making firms rich at the expense of the consumer, because instead of charging what the item costs, they can charge as much as you're willing to pay. Worse, in comparison to the competitive case, there is a deadweight loss that represents the people who would have bought the goods at the lower, competitive price but who don't at the higher price.
This is the obvious cost of monopoly, that folks who would otherwise buy stuff don't or can't. But there are other societal costs of monopolies. If it's a legally-enforced monopoly (as with patents), the company that has a monopoly on production of an item may not be the most efficient producer, raising the price to the consumer even higher. This is why some patented products never make it to market: the firm that owns the patent is a high-cost producer, but then they ask too much to license the technology to a lower-cost producer, so they can't profitably make it either.
Needless to say, the competitive "normal economic profits" are not what a CEO wants to promise to a firm's shareholders. So firms do anything they can to gain a competitive advantage, and this often boils down to creating a monopoly on their particular product through patents, branding, maintaining trade secrets, or even shadier tactics.
Open sourcing a project invites competition and essentially rules out monopoly. The clone firms are just playing their obvious role. And the winner is us, the consumers, who get the goods on the cheap. It's good to push a single producer on their pricing when it looks like they're behaving as a monopolist. Maybe they'll lower their prices and share a bit more of the profits with us in response.
Economies of Scale
In electronics, it's no secret that the more you make of a given widget the lower the average cost of production. Say it costs $50,000 dollars to set up a chip fabrication run, but then each chip produced only costs one penny. If you make one chip, it's kinda expensive. But if you can amortize that fixed-cost over millions of chips, your average cost gets pretty close to the one-cent mark.
Add scale economies to competition and you see why an Arduino Uno costs $25 and a cloned Pro Mini costs $2. (OK, they're not exactly the same thing, but you get the idea.)
Using the Clones: The AVR Transistor Tester
So if clones are tough on the producers, and awesome for the consumers, how do they play out for the innovative hacker who just wants to get a cool project into as many hands as possible? They can work fantastically. We're often surprised when we see open-source hobby projects get cloned, only to have the original designer bitterly claim that they're being robbed. It seems a bit "sour-grapes" to us. After all, they open-sourced the project.
[Limor Fried] would say that you should be honored that out of all the projects in the world, the cloners picked yours. But besides the feeling of pride, disseminating your projects through clone companies makes economic sense because they've got scale economies that you probably just don't have. The AVR transistor tester project is a perfect example.
The AVR transistor tester started as a microcontroller project that determined the pinout and tested a BJT transistor automatically. The original design (in German) had a clause that limited the firmware to non-commercial use. A few people on the German microcontroller forum built them, but it didn't really go much further.
[Karl-Heinz Kübbeler] took this as a starting point, and broadened the utility of both the hardware and the software (also German, but with English-language PDFs and a splinter discussion on EEVblog). From a transistor tester, the project became a general-purpose component tester that is a veritable swiss-army knife of an electronic device. While limited in accuracy relative to dedicated (and expensive) pieces of test equipment, this thing gets a lot done on its small LCD screen. Transistors, diodes, capacitors, inductors, and resistors are all characterized. Recent modifications include the addition of frequency and PWM generators, and basically anything else that folks can tack on without running the processor out of program memory.
[Karl-Heinz] kept his project open, responding to questions and feature requests on the forum. Because it was so cool it eventually got cloned, and the cloners would stop by the forum asking for help with firmware development. The result is a few cloning companies competing to sell you his transistor tester. You can buy a handful of subtly different versions of his device for $15-20 US shipped. This is just about what it would cost to source the full BOM for the project, even assuming that you produce the PCB "for free" at home.
You're totally welcome to make your own transistor tester. It's open source! It might make sense if you're interested in hacking some more on it. But if you're just interested in using one, you'd be stupid to DIY. You're just throwing money away. Competition among the cloners plus their economies of scale make it so. At the same time, open-source hardware and the clones have made [Karl-Heinz]'s great project available and affordable to hackers everywhere.
Doubts?
I've made the case for clones, from the perspectives of innovative firms, consumers, and hobby project designers. What's wrong with these arguments? Why the hate for the "cheap clones"?
Note that the firms I cited were all successful firms. A company that was bankrupted by the clones wouldn't feel so blasé about the whole affair as [Limor] or [Nathan] do. And if one of these companies that got pushed out of business was poised to do some really neat innovation, we might miss out on that as a society. So it's good to make sure that our innovators are sufficiently rewarded, but we don't want them getting fat and lazy either. It can be a fine line.
And with all the clone companies out there, it's hard to tell the scammers who sell you fake parts from the legitimate cloners who are doing their best. No matter how good you think competition is for a market, too many different firms can cause confusion. Maybe some of the hate comes from confusion of the cloners with the scammers and fakes?
But I fear that some of the backlash against the clones comes from consumers who falsely imagine themselves to be in the shoes of the producers. I like hacker-friendly companies as much as anyone, but when they charge a dollar more for something that I buy, it's an extra dollar out of my pocket and into theirs. It's a zero-sum game, and if more competition keeps them honest, I'm all for the competition.
Because on the price-per-pound metric, it's hard to beat the clones. Because of clones, I got to buy a cool AVR transistor tester for peanuts. At the end of the day, I know that I've made projects that I wouldn't have if the parts cost more. And that makes my hacker heart happy. Your thoughts?