Sometimes we need the look, feel, and weight of a metal part in a project, but not the metal itself. Maybe you're going for that retro look. Maybe you're restoring an old radio and you have one brass piece but not another. It's possible to get a very metal like part without all of the expense and heat required in casting or the long hours in the metal fabrication shop.
Before investing in the materials for cold casting, it's best to have practical expectations. A cold cast part will not take a high polish very well, but for brushed and satin it can be nearly indistinguishable from a cast part. The cold cast part will have a metal weight to it, but it clinks like ceramic. It will feel cool and transfers heat fairly well, but I don't have numbers for you. Parts made with brass, copper, and iron dust will patina accordingly. If you want them to hold a bright shine they will need to be treated with shellac or an equivalent coating afterward; luckily the thermoset resins are usually pretty inert so any coating used on metal for the same purpose will do.
It is best to think of the material as behaving more or less like a glass filled nylon such as the kind used for the casing of a power tool. It will be stiff. It will flex a relatively short distance before crazing and then cracking at the stress points. It will be significantly stronger than a 3D printed part, weaker than a pure resin part, and depending on the metal; weaker than the metal it is meant to imitate.
Materials
Cold casting is especially forgiving if the part is mostly cosmetic. The resin used to bind the particles together can be just about anything. While I am using my favorite, Innovated Polymers IE-3075, practically anything will do. It has a fairly long cure time, but the two-part glaze coat from the hardware store works well for this application too.
The metal can be any fine powder. For this example I used 500 mesh (30micron) aluminum powder. I ordered the powder marketed for this purpose by Smooth-On for the fast shipping, but there is nothing special about their powder. If you have the time, the slower but significantly cheaper kind from sites such as eBay will do.
Some Notes On Working With Metal Powders:
Explosion Hazard: Do not smoke or leave your Jacob's ladder on while you're working with metal powders. They can form a fine, barely visible cloud of metal which will explode when hit with an appropriately hot flame (check out [Jenny's] article about metal powders as fuel). This explosion won't necessarily just be a scary flash. It could actually be a face melting rapidly expanding ball of heat and force that can and will ruin your chances of being the centerfold in your hackerspace's sexy hacker fundraising calendar.
Organ Failure Funtime: Aluminum has been linked to Alzheimer's. Too much iron can make you clinically depressed and lethargic in a very short time. Silver will turn you permanently blue. These metal powders are extremely fine and your body will have no trouble absorbing toxic levels into your blood through your stomach, lungs, and if you get really fine powder, skin. I highly recommend following good lab practice, even if you have to lie to your buddies about it at the bar later.
With that in mind, let's talk the bare minimum of safety precautions for working with metal powders:
Wear a Respirator: A good quality dust mask will be okay, but for this kind of thing it's best to get a real respirator. I recommend the 3M line with the P100 filters as a minimum. Read a selection guide on how to tell if the mask has sealed or not. If you have a heavy beard be sure to pull the mask tighter than usual.
Wear Gloves: I highly recommend every hacker have a box of nitrile gloves in their size in their lab at all time. The higher quality kind, like a surgeon might use, fit very well and even have textured fingertips. They don't tear easily, and I can't really tell a massive loss in dexterity over no gloves.
Wear Eye Protection: Aside from risk of blindness, the eyes are also really quite good at absorbing harmful chemicals into the body. Eye protection is a must.
Cleanliness: Make sure to clean everything with a damp paper towel after the work is done. Keep food containers away from the area until it has been cleaned.
3D Printing & Sanding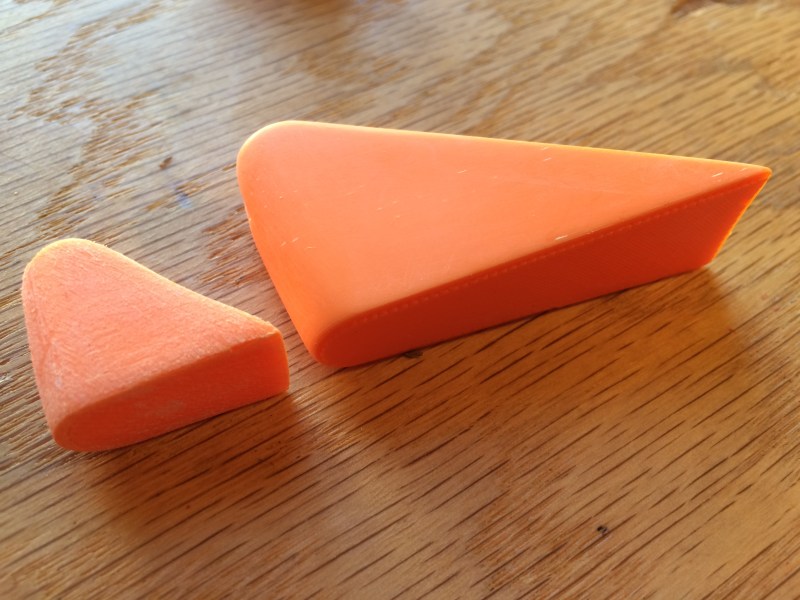 The master parts I used for this casting were 3D printed. I used quite a few outside layers with very little infill. An important thing to note with any resin casting is that the silicone mold will pick up every detail. This is a curse and a blessing. If you invest the time now on finishing the part and getting close to the desired look and feel, you won't have to do any finishing on the final part.
To get a really nice smooth surface on the PLA parts I started with 220 grit sandpaper to knock off the layers. I then moved straight to 800 grit to get a smooth finish. PLA is fairly easy to sand. The key is to keep it from getting warm. A spray bottle of water can help with this, and will also lengthen the life of the sand paper. Power sanders of any kind are likely to heat the PLA up too much and ruin the part.
A Note on Tolerances:
These parts will later have a hole drilled through them when they combine to form a hinge. Most mold making silicones barely shrink. Furthermore, a high quality thermoset resin will not change dimension appreciably either. So whatever tolerance you put into the master parts is the tolerance you'll get out. This is really helpful and is another advantage over metal parts. For these parts we matched a pair of 3D printed parts and then sanded them to slide perfectly. Every duplicate part made from this mold will behave as if hand matched. Not bad!
Mold
To make the mold I took the prepared 3D printed parts and laid them out in a likely configuration. For these parts the mold only has to be one sided. Even though the parts have an undercut, the silicone flexes easily enough that these have a single parting line. The flat surface that the 3D printer used to hold the parts onto the bed will be made by a sheet of flat UHMW polyethylene which urethane and silicone resins do not stick to.
I measured the tallest part and added 8mm to it to define the depth of my mold. I also measured the length and width of the footprint of the configuration. I took these values into inkscape and made a quick layout for a box. I printed these out and glued it to some foamcore as a cutting guide.
The box was easy to assemble. Since there is no water or solvents involved in the pouring of the silicone mold; PVA school glue is enough to hold the parts onto the foam core. If I were more clever I would have laid out my template differently so I could cut halfway through the foam core and get a free sealed edge when I bent the part up. I ended up gluing the rectangles together with hot glue. It's important to make sure that the edges are all sealed. Silicone starts to set in 30 minutes, but it is capable of oozing out of the mold for at least an hour. It's very depressing when this happens.
Mixing and Pouring The Mold
Mix and measure the silicone as per the manufacturer's instruction. Make sure to mix the silicone as thoroughly as possible. Early on I tried mixing gently to avoid bubbles, but this resulted in a silicone that remained sticky forever. If you have a vacuum chamber, degass the silicone before pouring. If you are using a pressure chamber, cure the silicone at 60psi for its cure time before demolding. In my case this was twelve hours.
Mixing and Pouring the Cold Cast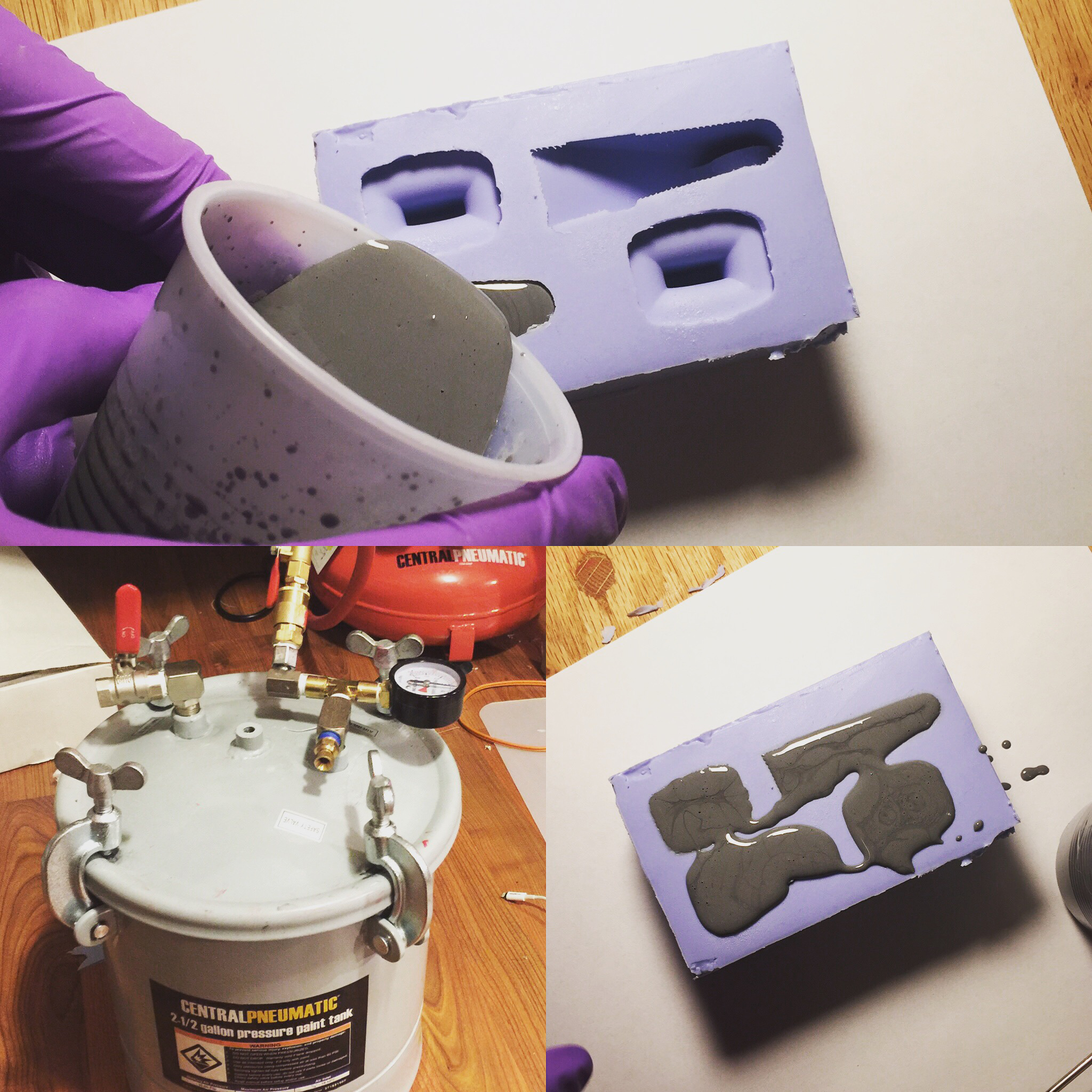 Smooth-On and most sites recommend a 1:1 ratio of resin to powder by volume. Through personal experimentation I've found that as long as the resin is mixed exactly, practically the same part can be made with up to 20% error in the powder to resin ratio. Once you go past that, the part either doesn't luster properly or is too brittle.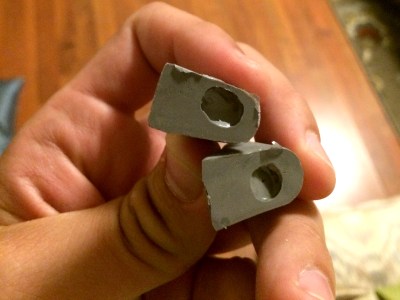 This is great because depending on the geometry chosen you can use different thicknesses of slurry. For a small part that will be completely filled with resin, the thinner mixture will work best.
For really large parts you can save a lot of metal powder by making a very thick slurry with more metal than resin. This can be painted on the inside of the mold, left to cure, and then resin without powder can be filled in behind it. This part will not have the same weight and sound as a 100% filled part though.
Mixing the resin and powder mixture is fairly easy. First precisely measure out the A and B parts of the resin. Mix this very thoroughly. Once the resin is mixed the metal powder can be added. It is important to get the mixing order right. If you mix the metal in too early the A and B components may not react with each other properly.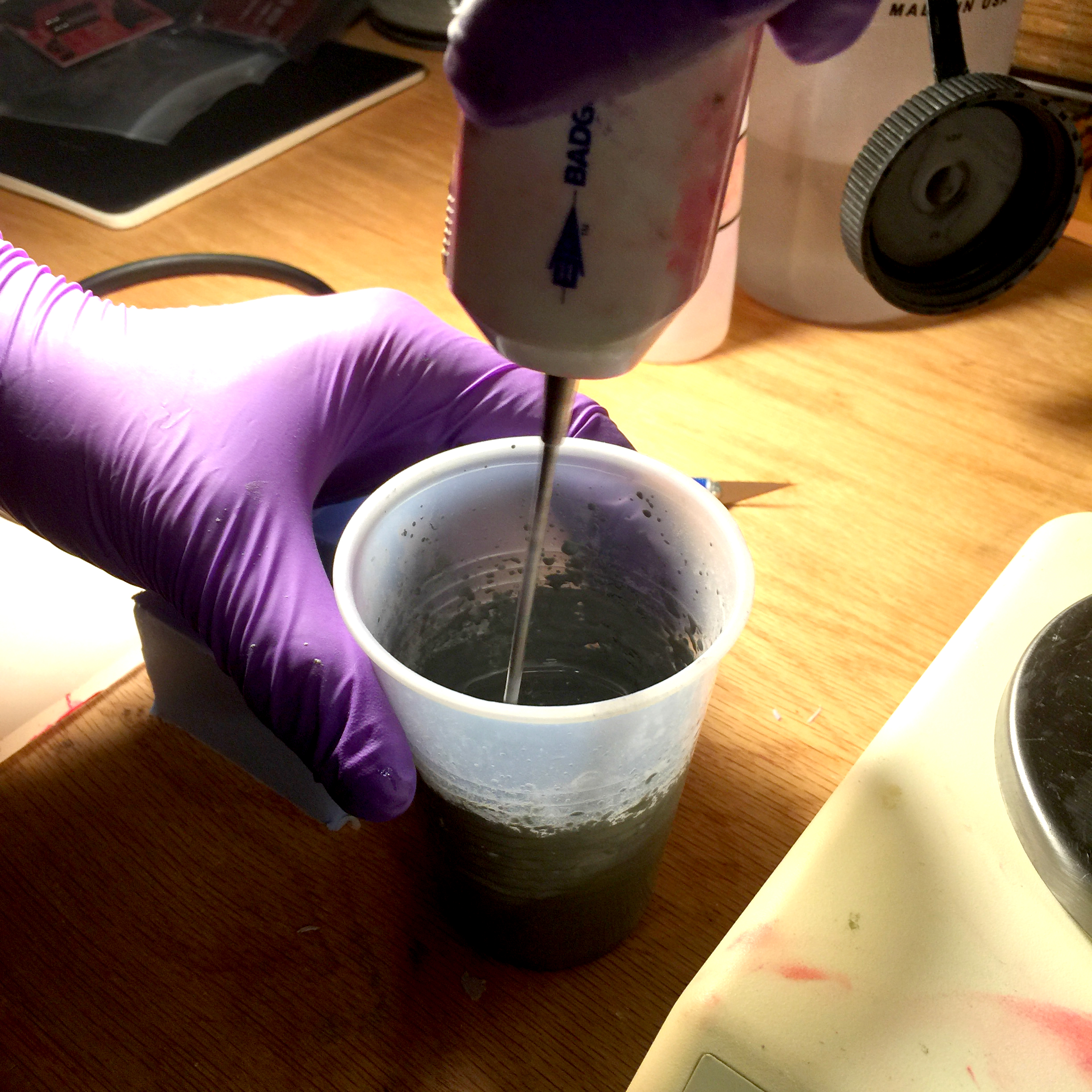 After it is mixed the resin can be optionally vacuum degassed and then poured into the mold as usual. Since this is a single part mold the back of the pour was covered with a sheet of UHMW to make a flat surface. The poured mold was set in a pressure chamber to cure at 60 psi for four hours before demolding. This time will change depending on the resin used.
Polishing and Final Work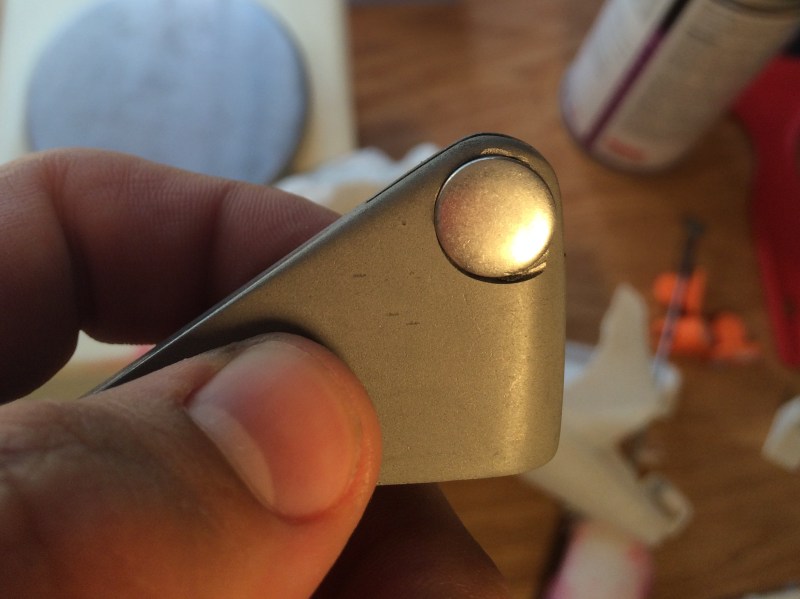 After demolding the part is ready for finishing. For this part it was decided that it would be significantly easier to drill the holes after the part was removed from the mold. The other option would be to have a pin in the mold or a two part mold. This would have required significantly more time to finish.
The part will come out of the mold with no shine at all. The resin tends to sit in front of the metal powder. Also the metallic particles are likely to have a small oxide layer over the surface, dulling them. The final step is to polish the part. For a satin finish, simply sand the part down to 400 or 800 grit with circular motions. A buffing wheel will work also. For this stage power tools are acceptable; thermoset plastics have a large working temperature range and can get quite hot before degrading.
To get a brushed look; a scotch-brite pad or steel wool stroked in the same direction over the surface of the part will provide the desired effect.
Of course, there are lots of other possibilities. For example, this video describes artificially aging a part to get a decorative rusting effect. It can also be used to imitate a bronze casting or age a piece of duplicated hardware to match the patina of an existing piece.
This is another useful technique to add to the resin casting skill book. There are lots of uses for this technique, from counterweights requiring precise geometry to fixing an antique radio. Many people use this to stunning effect for prop and jewelry making. Have any of you used this technique?