The 2016 Hackaday SuperConference is on. If you haven't had time to submit your proposal for a talk or workshop at the world's greatest conference for hardware, now is the time to do it. We're looking for everything – war stories from deep in the trenches or next to the pick and place, the problem of having your board house 5,000 miles from your lab, and that time you accidentally discovered P=NP in the firmware of a reflow toaster oven.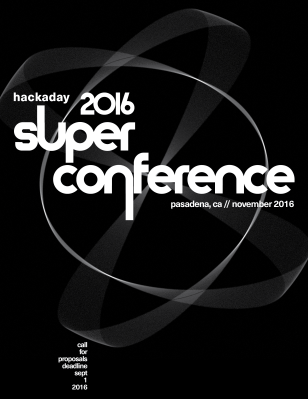 The Hackaday Supercon will be in Pasadena, California on November 5th and 6th, and will be the host of hundreds of hackers, designers, engineers, and the only makers that you want to meet. We're going to have several venues with talks, workshops, and other various activities.
Talks will be scheduled for 20-40 minutes, and workshops will be scheduled for 1-4 hours. In both cases, topics can range from rapid prototyping, new and interesting techniques, creativity in technical design, and stories of product development and manufacturing.
Last year's SuperConference was the greatest hardware conference we've ever seen. That success was due entirely to the talented engineers, speakers, and presenters of the Hackaday community who put together their stories to share for the benefit of all. If you couldn't make it, you can still check out all the talks from last year.
If you're reading this and think you should propose a talk, do it!. Submit your proposal. This conference is only a success because of the awesome Hackaday community and the efforts of readers just like you.
If you're wondering what the usual talk at the Hackaday Supercon is like, I present (below) the greatest talk I have ever seen. It's [Jeroen Domburg] a.k.a. [sprite_tm]'s efforts to create a Matrix of Tamagotchis. It's thirteen Tamagotchis, fully virtualized, emulated, and running on a server, going about their lives without any awareness they're inside a computer.