It seems like every other day we hear about some hacker, tinkerer, maker, coder or one of the many other Do-It-Yourself engineer types getting their hands into a complex field once reserved to only a select few. Costs have come down, enabling common everyday folks to equip themselves with 3D printers, laser cutters, CNC mills and a host of other once very expensive pieces of equipment. Getting PCB boards made is literally dirt cheap, and there are more inexpensive Linux single board computers than we can keep track of these days. Combining the lowering hardware costs with the ever increasing wealth of knowledge available on the internet creates a perfect environment for DIYers to push into ever more specific scientific fields.
One of these fields is biomedical research. In labs across the world, you'll find a host of different machines used to study and create biological and chemical compounds. These machines include DNA and protein synthesizers, mass spectrometers, UV spectrometers, lyophilizers, liquid chromatography machines, fraction collectors… I could go on and on.
These machines are prohibitively expensive to the DIYer. But they don't have to be. We have the ability to make these machines in our garages if we wanted to. So why aren't we? One of the reasons we see very few biomedical hacks is because the chemistry knowledge needed to make and operate these machines is generally not in the typical DIYers toolbox. This is something that we believe needs to change, and we start today.
In this article, we're going to go over how to convert basic chemical formulas, such as C9H804 (aspirin), into its molecular structure, and visa versa. Such knowledge might be elementary, but it is a requirement for anyone who wishes to get started in biomedical hacking, and a great starting point for the curious among us.
Lewis Dots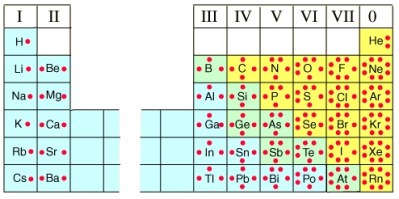 One of the goals of the chemist is to understand how elements and molecules interact with each other. Atoms will always combine to form a more stable electron structure, and be isoelectronic with the noble gases. It's the outermost, or valance electrons that interact during bonding, and many chemists find it useful to depict these valence electrons as dots around the atom's symbol when drawing out chemical formulas. One can look to the periodic table for the atom's symbol, but can also look at the group number to learn the number of valence electrons in an element. For the main group elements (group A), the group number is the same as the valance electron number. The transition metals (group B) are not usually represented with Lewis dots. Take a look at the image on the upper right to get a clear understanding of how the dots represent the outermost electrons of an element, and how that number corresponds to the group number in the periodic table. Note that the dots are not paired until absolutely necessary.
Covalent Bonding
There are two main ways that atoms can bond with each other — covalent and ionic. Ionic bonding occurs when electrons from an atom that gives them up easily moves to another atom that accepts them easily. This causes an electrostatic charge to exist between them, which makes them stick together. Salt (NaCl) is an example of an ionic bond.
Covalent bonding occurs when atoms share electrons in order to become more stable, like a noble gas. Because noble gases have eight valence electrons, this tendency is referred to as the octet rule. This rule applies to many of the elements involved in biochemistry (such as carbon, nitrogen and oxygen), and allows us to predict how they will bond. Observing the Lewis Dots helps to visualize how covalent bonding occurs between these elements via the octet rule, allowing us to draw them as structures.
Lewis Structures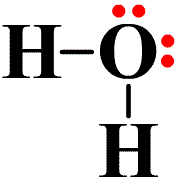 Water (H2O) is probably the best known example of a covalent bond. If we look at the Lewis dot symbol for oxygen, we see that it has 6 valence electrons (or dots). Hydrogen has one. From the oxygen's viewpoint, it wants to achieve the noble gas structure of the noble gas neon, and it needs two electrons to achieve this. So it bonds with two hydrogen atoms. From the hydrogen's viewpoint, it wants to achieve the electron state of helium. So it bonds with the oxygen atom. Each atom is in its most stable state — the noble gas configuration. When an electron is shared between the two atoms, the dot is replaced by a single line. See the image on the left.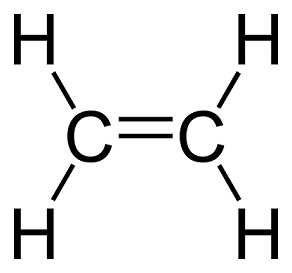 The single line that represents the shared electron is known as a single bond. There can be cases of multiple bonds too. Consider ethylene (C2H4). Carbon has 4 valance electrons and hydrogen has one. The two carbon atoms share two electrons each, while each shares another two with two hydrogen atoms. This configuration puts each atom in its neon noble gas electron state. See the image on the right for the Lewis structure of ethylene.
Carbon is a unique element in biochemistry, as it can form nearly endless bonds with itself. In fact, an entire branch called organic chemistry is dedicated to the study of carbon and its derivatives. You will often hear chemists describe themselves as organic or inorganic – each branches into its own unique fields of research.
Benzene – C6H6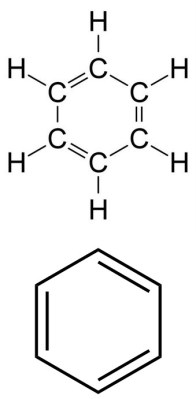 We all have come in contact with benzene in one way or another. It's responsible for the odor of gasoline. But more importantly, it's a key molecule in organic chemistry. It has the shape of a ring, and is known as an aromatic molecule. This means the electrons can move freely around the ring, giving it unique properties, such as enhanced stability. But to stay in line with Lewis structures; I bring up benzene because it is often drawn in a shorthand way that will confuse those who are unaware. To the right is a benzene molecule. But it is often drawn using the short hand shown just below.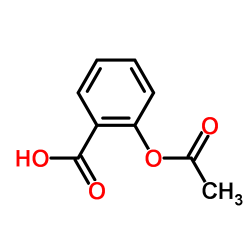 Note that aspirin (C9H8O4) contains a benzene ring. And now that you know what it is, you will see it in many chemical formulas.
Looking at the non-shorthand Lewis Structure, we see that the six carbons form a bond with each other, with each forming a single bond with a hydrogen atom. Three of the six bonds between the carbon atoms are double bonds. Again, all of this is done so that each atom is in its most stable noble gas state.
Step by Step
Let's walk through an example of taking a chemical formula to a Lewis Structure. We'll use H2O for our example
Draw a skeletal structure. Use your new knowledge of the Lewis Dots to arrange the atoms so they'll bond to satisfy the octet rule. Draw a single line (representing a shared electron) between each of the bonded atoms. With larger molecules, usually the atom with the smallest overall negative charge will be the center atom. For water, this would look like: H—O—H
Find the total number of valence electrons. For water, this is 8.
For each bond, represented by the single line, subtract 2. For water, 8 – 4 = 4.
Use the value obtained in step 3 to fill the valence shell of the atoms bonded to the central atom. For water, the hydrogen atoms already have a full valence shell, so we will have leftover electrons.
If any electrons remain, put them on the central atom (as dots). Water would have 4 dots placed on the oxygen atom.
If at the end there are less than 8 electrons on the central atom, remove two of them from one of the outer atoms and make a double bond to the central atom.
I know this has been a review of high school chemistry for some, but it is necessary to understand these basic ideas before we move into things like proteins and carbohydrates. While we didn't touch on everything, you should now have a basic idea of how to take a simple chemical formula to a Lewis structure, and vice versa. For a more advanced look at the electron structures of the elements and where they come from, see our periodic table post.