A lot of people assume that the product development cycle involves R&D, outsourcing to a Chinese manufacturer, and then selling the finished product. It's almost ingrained in our heads that once a prototype has been developed, the next step involves a visa and airplane tickets. Here is a guide that will explore a few other options, and why outsourcing may not be appropriate for everyone.
First, let's talk about goals. We'll assume you're not a large company, and that you don't have a huge budget, and that you're just getting started with your product and don't have big volumes; a startup trying to sell a kit or breakout board, or a consumer electronics product. Your goals are the following:
Validate your product in the market. Build a minimum viable product and get it in the hands of lots of users
Get the most bang for your limited bucks. All money should go towards getting products out the door
Reduce risk to your company so that any single failure doesn't crater the whole operation and you can safely grow.
With that in mind, what are your options?
Foreign Outsourcing
Some people will say that you should start in China early because you will have access to assembly methods and components that can be used in the design process to ensure that the final product will be assemble-able and components easily sourced when manufacturing does take place, as well as forging a relationship with the factories that will make the product. No.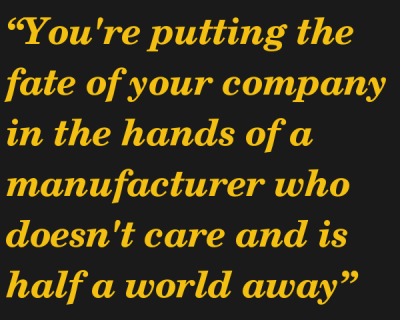 You want parts whose datasheets you can read and that can be reliably sourced, and you probably won't stick with the same company that manufactured in dozens when you move up to tens of thousands. For all the speed that's advertised, there are just as many delays for unforeseen and more annoying reasons. Remember that reducing your risk is a major goal of a startup, and is a serious consideration for any potential investor or customer. If you are outsourcing manufacturing, you are accepting an enormous risk, and worse yet there are no consequences if your manufacturer messes up any of the billion things that can go wrong. You're putting the fate of your company in the hands of a manufacturer who doesn't care and is half a world away.
It is my firm opinion that outsourcing to China (or other countries where manufacturing is stereotypically cheap) is only appropriate if:
You are dealing in large volumes and your current manufacturing strategy cannot handle it
You have been manufacturing a while and are looking to shave some of the Cost of Goods Sold (COGS)
You have been manufacturing a while and have ironed out many of the assembly kinks, the test jigs, the molds, and the product has all the features the customer wants.
So why those three qualifications? Let's look at each one:
Volumes
It is likely that you will start in small volumes, on the order of hundreds, maybe even a few thousand. Assembly lines take a long time to set up. Travel to a foreign country is time-consuming and expensive. There are many hidden overhead costs that are essentially the same whether you are dealing in small volumes or large. But with small volumes, those costs don't amortize well into the volumes, so while the COGS may be small, the actual costs once all the hidden ones are accounted for can be significantly higher.
As a small company with a risky product that is just starting to get customer validation, the goal is to stretch money and time as far as it can go, and outsourcing can be really hard on both of those. Delays of a month in transit can be extremely rough for a startup on a time crunch, too.
Cost Savings
You may be able to get components cheaper, and you may be able to get labor on the assembly line cheaper, but that's about it when it comes to cost savings. You still have to account for a lot of other expenses which are not in the COGS, and which will throw your accounting out of whack. Some of those costs include shipping.
Although shipping by sea right now is super cheap, if you are in a hurry to get product, then air shipping is still and will likely always be expensive. You will have to pay duties, and you will probably have to fly and live over there for a while, both during the design process and the assembly line setup, and possibly even during the production. For a large volume where these kinds of expenses can amortize easily, it makes sense. But when you are looking at making a thousand of something, and a flight costs a thousand dollars, you've just increased your COGS by $1, so your spreadsheet comparing local vs outsourced should consider that.
Ironed out Kinks
New products have kinks. They may have certain components that are particularly difficult to attach, or require some skilled labor to assemble. Consistency is challenging, and rework is normal. It is during those first few rounds of assembly that it is crucial to have the designers participate, working on building jigs to aid in assembly, tweaking part designs as necessary to make it come together more reliably. Outsourcing too early means you miss this step, and have a bunch of low-wage workers who have fewer skills and no idea what your product does or how it works trying to assemble it. You will have lots of problems with this. It's better to have experienced the assembly for a while and know where the hangups are, design them out or build tools to accommodate, and have a test and assembly process that you know works and that is as bulletproof as possible.
The Big Picture of Foreign Outsourcing
Look at the Pebble smartwatch, or the Coolest Cooler. These are projects that were so successful that they had to outsource production. Their volumes were too high to manufacture at home, but that meant that they had to skip the important step of manufacturing locally and ironing out the kinks. If you see where they struggled (or failed entirely), it is largely because they outsourced manufacturing their product too early and quality, cost, and timeline all suffered in the long run because of it. Most projects aren't runaway successes like this and have a much more realistic opportunity for easing into production in larger and larger volumes, eventually transitioning to a need for large scale outsourced manufacturing.
Local Outsourcing
You probably have a manufacturer capable of handling your product within 100 miles. It might be a few different manufacturers; a plastics company, a PCBA company, a packaging company, and a fulfillment company. Check them out.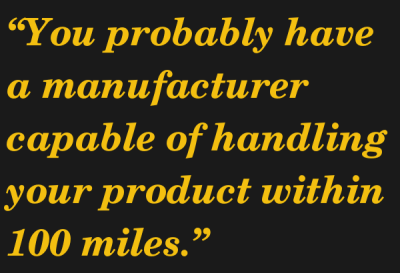 Yes, they will be more expensive than you'd like. But they'll help you along the way, often with free and extremely useful advice. Your plastics guy is going to say: "that wall is too thin, that undercut means you need a slide, and I need to know what color and texture you want. Come down to our office and check out the book of colors and textures we have."
They're going to do that because they want high yield and no returns or scrapped product, so exacting specifications and easy to manufacture parts are in their best interest, too. You can't rely on them to do all the work for you (not without paying for it anyway), but that kind of help is extremely valuable, and locally available. Yes, there will be some extra cost associated with it on a per part basis or in tooling, but you'll have your parts sooner, you'll be able to trust the manufacturer and hold them accountable if they fail, and you'll be supporting local businesses, which goes a long way. If you scale up, then you can re-examine the relationship later, but when you are small and risky, finding a stable partner has lots of advantages.
You don't have to outsource all production. Pick and choose the parts you can do yourself vs. things you can't. Final assembly, testing, and fulfillment are probably entirely within your capability in your garage.
Manufacturing Yourself
This is likely more accessible than you think. We recently finished a series on doing PCBA using home-made tools, and in volumes up to a few thousand boards per month, it's a reasonable possibility. Sure, there are limitations, so BGA and double sided boards are more challenging, but for most applications, it's not far-fetched.
Some kinds of enclosures can be purchased outright from sites like New Age Enclosures or Hammond. Others can be made with a laser cutter or 3D printer for small volumes. Eventually you can work with a manufacturer and get maybe just the plastics done locally but the rest assembled and tested in the garage. The biggest reason to do this, though, is that it will force you to work through the assembly line process and figure out all the quirks of your product. You'll develop all the jigs and make modifications to the design to aid in assembly, and because you are feeling the pain yourself, you'll be a lot more motivated to do it. Because you are doing it in house, it's so much easier to just change the design a little and make an immediate change to the assembly line accordingly.
Conclusion
Remember your 3 goals as a startup: get an MVP, spend every dollar on getting product out the door and servicing customers, and reduce risk as much as possible. Make your production decisions with these goals in mind, and you'll be a happier and more successful company.