When we see a new build by [Gord] from Gord's Garage, we never know what to expect. He seems to be pretty skilled at whatever he puts his hand to, with a great design sense and impeccable craftsmanship. You might expect him to tone it down a little for a STEM-outreach wind turbine project then, but when you get a chance to impress 28 fifth and sixth graders, you might as well go for it.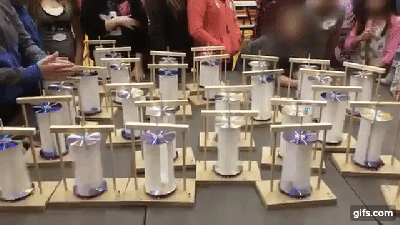 Starting with an idea from his daughter's teacher for wind turbines each kid could make, [Gord] applied a little lean methodology so the kids would be able to complete the build in the allotted time. The design is simple – a couple of old CDs holding vertical sections of PVC tubing to catch the breeze and spin neodymium magnets over four flat coils of magnet wire. It's enough to light a single LED and perhaps a kid's imagination.
As simple as the turbine is, the process of building it needed to be stripped of as much unnecessary work as possible, and [Gord] really shines here. He built jigs and fixtures galore, pre-built some assemblies, and set up well-organized workstations for each step of the build. Everything was clearly labeled, adult volunteers were trained using the video after the break, and a good time was had by all.
Sometimes the hack isn't in the product but in the process, and [Gord] managed to hack a success out a potential disaster of disappointed kids. If getting a taste of [Gord]'s style makes you want to see more, check out his guitar fretting jig or his brake rotor mancave clock.