Eight or nine years ago, Apple was on top of the world. The iPhone just revolutionized phones, Apple was still making computers, and these computers were actually repairable. Of the late 2008/early 2009 MacBook Pro, iFixit said, "What an incredible machine. We are very impressed by the ease with which the new MacBook Pro came apart. This machine should be a joy to work on". Apple has come a long way since then.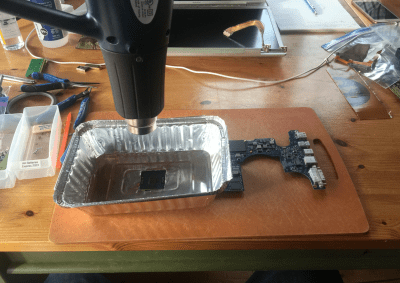 [DocDawning] has a bit of a Mac hoarding problem, and frequently pays $20 for broken laptops of this vintage. Most of the time, the fix is simple: the RAM needs to be reseated, or something like that. Rarely, he comes across a machine that isn't fixed so easily. The solution, in this case, is a deep dive into heat guns and thermal management. How do you bring a laptop back from the dead? [Dawning] shows you how.
Like the old XBox towel hack, the first thing to look for in dead electronics is broken solder balls. Of course, actually looking at broken solder balls is pretty hard, so you might as well just get out a heat gun and go at it. That's exactly what [Dawning] did. With the clever application of an aluminum takeout tray to direct the heat flow, he blasted each of these chips with enough heat to hopefully melt all the balls.
With that, a working MacBook Pro was just a liberal application of thermal paste away. From $20 at the scrap heap to a working computer, [Dawning] did it. He successfully resuscitated a broken computer.