Fascinated by art generated by deep learning systems such as DALL-E and Stable Diffusion? Then perhaps a wall installation like this phenomenal e-paper Triptych created by [Zach Archer] is in your future.
The three interlocking frames were printed out of "Walnut Wood" HTPLA from ProtoPasta, and hold a pair of 5.79 inch red/black/white displays along with a single 7.3 inch red/yellow/black/white panel from Waveshare. There are e-paper panels out there with more colors available if you wanted to go that route, but judging by the striking images [Zach] has posted, the relatively limited color palettes available on these displays doesn't seem to be a hindrance.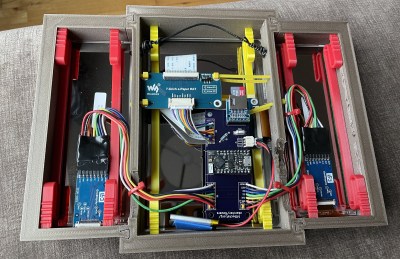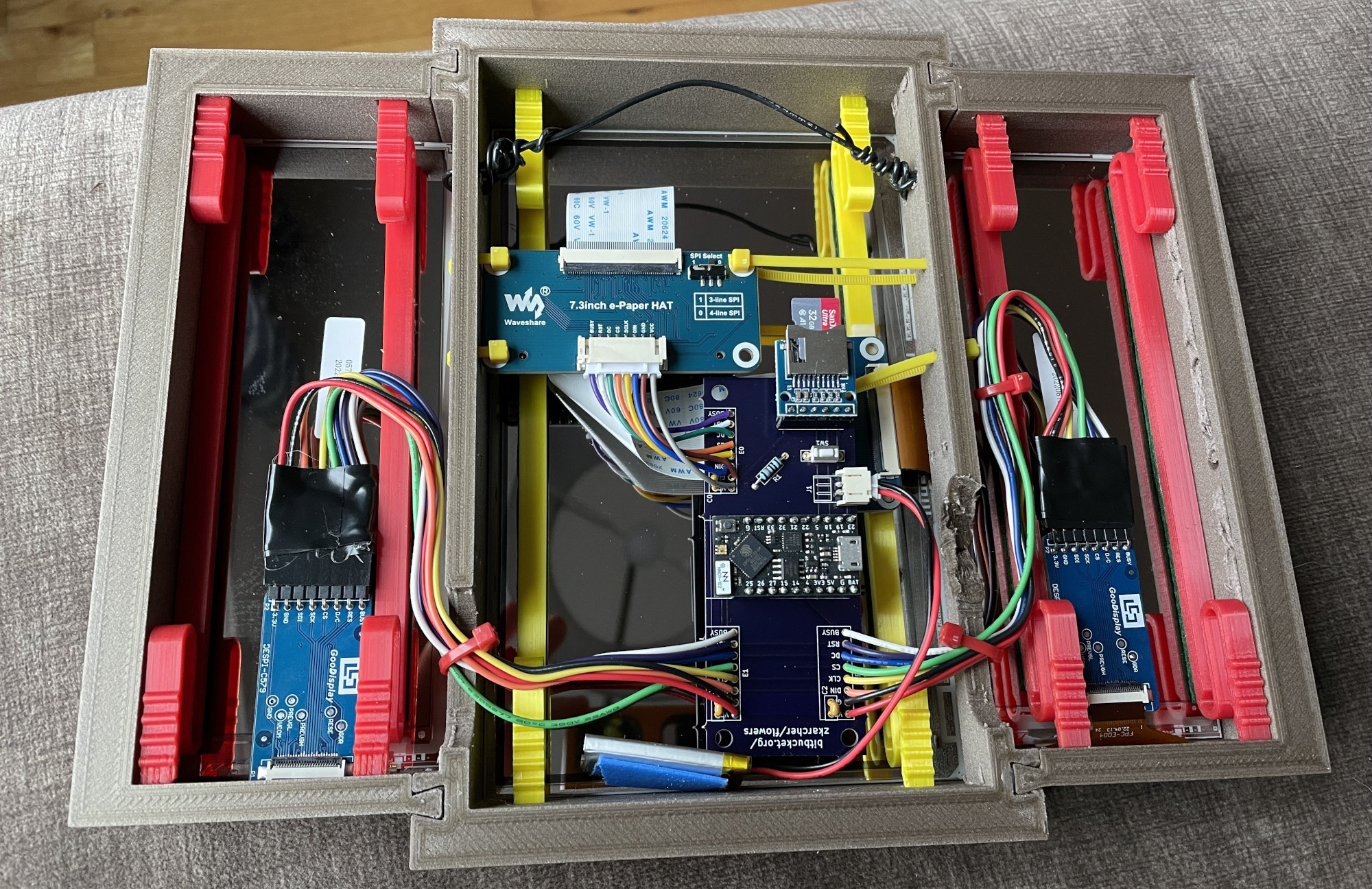 To create the images themselves, [Zach] wrote a script that would generate endless customized portraits using Stable Diffusion v1.4, and then manually selected the best to get copied over to a 32 GB micro SD card. The side images were generated on the dreamstudio.ai website, and also dumped on the card.
Every 12 hours a TinyPico ESP32 development board in the frame picks some images from the card, applies the necessary dithering and color adjustments to make them look good on the e-paper, and then updates the displays.
With the onboard 350 mAh battery, [Zach] says the frame will run for about 16 days. That's pretty impressive given the relatively low capacity, so we imagine you could really get some serious runtime from a pair of 18650s. In the past we've even seen e-paper wall displays use solar panels to help stretch out their battery life, though we can see how tacking on some photovoltaic cells might impact the carefully considered aesthetics of this piece.
It's a beautiful project, but according to [Zach], he's starting to have some second thoughts about the images he's showing on it. Like many of us, he's wondering about the implications of content generated by AI, specifically how it can devalue the work of human artists. Thankfully loading the display up with new images is just a matter of popping in a new SD card, so we imagine the hardware itself will still be put to use even if the content itself is swapped out.