ChatGPT might be making the news these days for being able to answer basically any question it's asked, those of us who are a little older remember a much simpler technology that did about the same thing. The humble "Magic 8 Ball" could take nearly the same inputs, provided they were parsed in simple yes/no form, and provide marginal help similar to the AI tools of today. For a toy with no battery or screen, this was quite an accomplishment. But the small toy couldn't give specific technical support help, so [kodi] made one that can.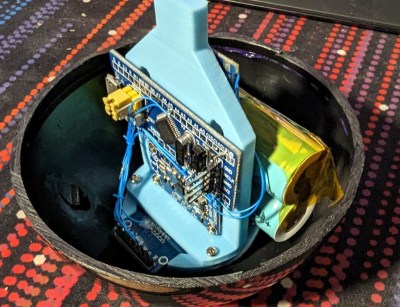 The new 8 Ball foregoes the central fluid-filled chamber for an STM32 Blue Pill board with a few lithium batteries to power it. The original plastic shell was split in two with a hacksaw and fitted with a 3D printed ring which allows the two halves to be reconnected and separated again when it needs to charge. It uses a circular OLED to display the various messages of tech support, which are displayed when an accelerometer detects that the toy has been shaken.
Granted, most of the messages are about as helpful to solving a tech support issue as the original magic 8 Ball's would have been, but we appreciate the ingenuity and carefree nature of a project like this. It also did an excellent job at operating in a low-power state as well, to avoid needing to charge it often. There have been a few other digital conversions of these analog fortune tellers as well, like this one which adds GIFs to each of the original answers.