Historically, nature has used trees to turn carbon dioxide back into oxygen for use by living creatures. The trees play a vital role in the carbon cycle, and have done so for millennia. Recently, humans have thrown things off a bit by getting rid of lots of trees and digging up a lot more carbon.
While great efforts are underway to replenish the world's tree stocks, Belgrade has gone in a different direction, creating artificial "liquid trees" to capture carbon dioxide instead. This has spawned wild cries of dystopia and that the devices are an affront to nature. Let's sidestep the hysteria and look at what's actually going on.
Green Goop
It's perhaps understandable why the so-called "Liquid Trees" have caused so much consternation. Much of that may be down to their futuristic, cyberpunk aesthetic. The devices consist of eerie green fluid in a transparent tank, lit from inside. They looks like something straight out of science-fiction, which naturally leads people to connect with the scary tropes of such media.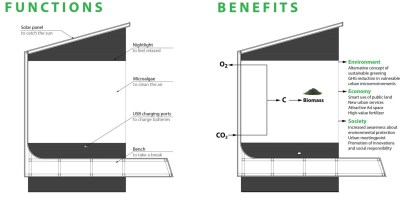 In reality, though, the devices serve a real and positive purpose. The photo-bioreactors, as they are technically known, are air quality control devices built specifically to suit the urban environment. Inside the tank, microalgae is grown in 600 liters of water, using CO2 from the atmosphere combined with photosynthesis to produce oxygen and biomass. One LIQUID3 bioreactor is capable of replacing one 10-year-old adult tree, or a full 200 m2 of lawn. This is of huge benefit, as the bioreactors can be built and installed far more quickly, and start processing polluted air immediately.
Like trees, the devices are solar-powered, with panels on top to capture light and turn it into electricity. Built-in lighting allows the microalgae to photosynthesize year round, even in the dimmer winter months. There's also a pump which captures polluted air and bubbles it up through the water to feed the algae. The LIQUID3 bioreactors are built with an eye to civic duty, as well. They're constructed to also serve as city benches, while also providing a power outlet for charging mobile phones.
The bioreactors are well-suited to the built environment of Belgrade, Serbia. The city is subject to significant air quality issues, with high PM2.5 counts by virtue of two neighbouring coal power stations. Serbia as a whole records 175 pollution related deaths per 100,000 people, making it Europe's worst performer by this metric. It's also 33rd in the world for having the worst air quality.  Anecdotally, activists complain of pollution so bad that it can be readily detected by sight, smell, or taste during the worst periods. If you were in Beijing in the winter of 2015/2016, you'd be familiar with the flavor.
Much of the uproar towards the devices is misguided. The bioreactors aren't intended to replace urban trees with scary-looking machines. Instead, they're designed to slot into spaces where growing a tree is impractical. Plus, the microalgae bioreactors offer efficiencies that trees and grasses simply can't match. Microalgae can be capable of removing CO2 at a rate 10 to 50 times faster than even mature trees, to boot. Once grown, the microalgae can be harvested and used as a potent fertilizer, as well.
As valuable as efforts like the Trillion Trees project may be, there's something to be said for the sheer practicality of building compact bioreactors. The fact that they start capturing useful amounts of carbon dioxide from day one is just a further mark in their favour. As the world struggles against rising carbon levels in the atmosphere, expect to see bioreactors like these proliferate in cities around the world. They may just be a key weapon in the fight against climate change, while also transforming our urban spaces into the futuristic cityscapes science-fiction had promised us.