I was fortunate enough to visit the Trenton Computer Festival last weekend. The show struck a very interesting mix of new and old, commercial and educational. Attendees were writing programs in BASIC on an Apple I (courtesy of the Vintage Computer Federation) not more than five feet from where students were demonstrating their FIRST robot.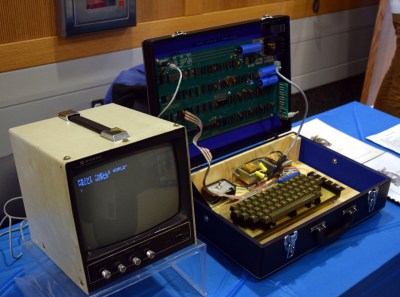 The one-day event featured over fifty demonstrations, talks, and workshops on topics ranging from a crash course in lock picking to the latest advancements in quantum computing. In the vendor room you could buy a refurbished laptop while just down the hall talks were being given on heady topics such as using neural networks and genetic algorithms for day trading on the stock market.
Recent years have seen a widening of the content presented, but TCF's longevity means there is a distinct "vintage" vibe to the show and the culture surrounding it. Many of the attendees, and even some of the presenters, can proudly say they've been attending since the very first show in 1976.
There was simply too much going on to see everything. At any given time, there were eleven talks happening simultaneously, and that doesn't include the demonstrations and workshops which ran all day. I documented as many highlights from this year's TCF as I could for those who haven't had a chance to visit what might be the most low-key, and certainly oldest, celebration of computing technology on the planet. Join me after the break for the whirlwind tour.
Continue reading "Hackaday Visits World's Oldest Computer Festival: TCF 43" →